Showing 1-14 of 14 item (s)
What is a WiFi thermometer?
The connected wifi temperature recorder thermometers are compact wireless sensors that can monitor temperature and humidity conditions (depending on the model chosen).


They are used to display and transmit via WIFI the temperature and humidity of the external or internal probes of:


- cooking zones
- preparation areas
- cold storage areas
- ovens
- refrigerators
- freezers
As well as any other environment or material requiring temperature monitoring and transmission.


In addition, its connection to a wifi router allows you to remotely control the temperature and humidity flows of the chosen environment using software (Free). Your data is then accessible and searchable from a PC, laptop or tablet anywhere in the world.


---

How to choose your WiFi thermometer?
The choice of wifi sensor depends on your use as well as the number and type of value to be measured (temperature and / or humidity). Below, we offer you a comparison of our different WiFi connected thermometers.

The characteristics of our wifi sensors:


Model

Ref: G298-001R

Ref: G298-011R

Ref: G298-121R

Ref: G298-111R

Ref: G298-621R

Measured value

Temperature
Temperature
Temperature
Temperature
Temperature
&
Humidity

Number of sensors

1 internal
1 internal + 1 external
(thermistor)
2 external channels (K / T type thermocouple)
2 external channels
(Thermistor)

1 internal

Beach

Internal: 0 to 50 ° C

Internal: 0 to 50 ° C
External: -40 ° C to 125 ° C
Type k: -100 to 1372 ° C
Type T: -100 to 400 ° C
External: -40 ° C to 125 ° C
Internal: 0 to 50 ° C
Humidity: 0 to 100% RH
---

How does Wi-Fi work?
By using the unique identifier of each logger, you gain access to a secure connection established between the logger and the software, which can be accessed and viewed anytime and anywhere via the internet connection.


Each wifi logger communicates directly with your Wi-Fi router at a defined time interval to transmit data to the software via the Internet. This information can be used for analysis and exported as a report.


It then allows you to organize and analyze temperature data to provide management information.


Likewise, you can configure your thermometer by defining minimum and maximum temperature ranges and receive data that exceeds its limits by email in real time.


The thermometers are all battery powered.

The characteristics of the software:
The software has the ability to display data from 32 wifi thermometers on a single graph, the colors of the curves are user selectable. All files can be displayed as miniature icons for easy identification.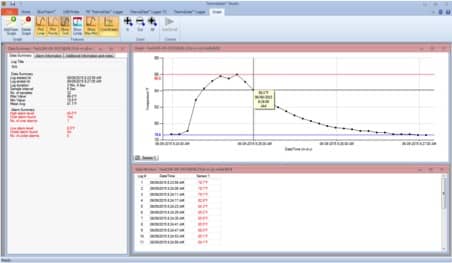 The software allows the user to program:
- sampling frequency / logging interval (0,1 to 330 minutes),
- the communication interval (synchronization) with the PC
- the real time clock,
- lat temperature (° C or ° F)
- et manual start options.


It is also possible to include a user ID for each recorder.


Automatic archive: Regularly archive important recorded data directly to local or network drives. Once the setting is completed, the archived data will be automatically stored in the cloud and wifi thermometer. In addition, you benefit from a quick reminder and report. Connect up to 32 qualified temperature recording devices to a software portal. So you can quickly set up, download and monitor temperature readings.


---

How do I install my WiFi sensor?
First, you need to download the software to your PC.


Then you will need to connect your wifi thermometer to the internet, you can do this in two ways:
- The first is to connect it directly to a PC or laptop via USB
- You can also hotspot from your phone or tablet.


To connect via the Internet, simply connect your Wi-Fi connected thermometer to your PC using the supplied USB cable. Open the software and select the "ThermaData®" tab in the top bar, from there we can locate the "Connect instrument to WiFi" button.


Once you click on it, you can select the appropriate WiFi network from the drop-down menu and enter the necessary details. You will see a green bar load on the screen as it searches for available networks. If the network you are looking for does not appear, you can also manually enter the network name, select WPA2 as the encryption, and then enter the network password. Now that it has found the correct network, the wifi sensor has connected and displays a WiFi signal indicator and a cloud in the upper left corner of the LCD screen.


---

How to configure email alerts from a WiFi thermometer?
In the software, go to File> Options and select Email - Server. Enter the email address you want emails to be sent from in the "Send Email As" field. If server details are available, a link will appear below this field. Otherwise, please enter all email fields manually. Once this has been successfully configured, select Email - Destination from the left menu. On this screen, enter all the email destinations you want to send an email alert to. Finally, select Email - Filter from the left menu, then select the instrument and the high / low alarms for which you want to send alerts.