Anti-condensation heating tape
In production :
1 to 3 weeks
ANTI-CONDENSATION RESISTOR FOR MOTOR, ALTERNATOR ... 230 V & 115V
Secure Payments
All payments are secure and approved.
Best price guarantee
Contact us to define your payment term.
+33-233-611-670
English - French - German - Spanish
International shipping
FREE delivery in EU from 70 € HT purchase
Shutdown heaters help prevent condensate and prevent frost damage when the engines are in a cold environment. The delivery program includes a standard version with or without additional fiberglass insulation as well as two additional versions for use in potentially explosive atmospheres.
The proposed shutdown heaters are intended for use in electrical machines. They are available in a wide variety of capacities, lengths of heating tape or supply voltages. Self-limiting and ATEX certified anti-condensation resistors for use in potentially explosive atmospheres are also produced.
The heating conductor (resistance wire) made of CuNi or NiCr alloy is spirally wound on a fiberglass support. The resulting individual wires are connected in series by means of crimp sleeves. To protect against humidity, the crimp fittings are insulated with a heat-shrinkable sheath and the heating conductors are coated with a silicone sheath. Power is supplied by individual PTFE strands permanently connected. The heating cable can optionally be covered with a fiberglass tube. This contributes to the vacuum impregnation of the motor for a better connection with the impregnation resin. A specific adjustment to the power and the length of the heating strip is possible.

We have a whole range of anti-condensation resistors for low voltage electric motors. On request we can offer resistors according to your specific specifications.
Technical data :

Temperature range: -60 ° C… + 180 ° C Supply voltage: 115V or 230V

Dielectric strength: 2,0 kV / 50 Hz, 20 s Torsion: ≥10mm

Conductors: Teflon PTFE insulated copper conductors Section AWG20 / 7
Width of

Other cable lengths on request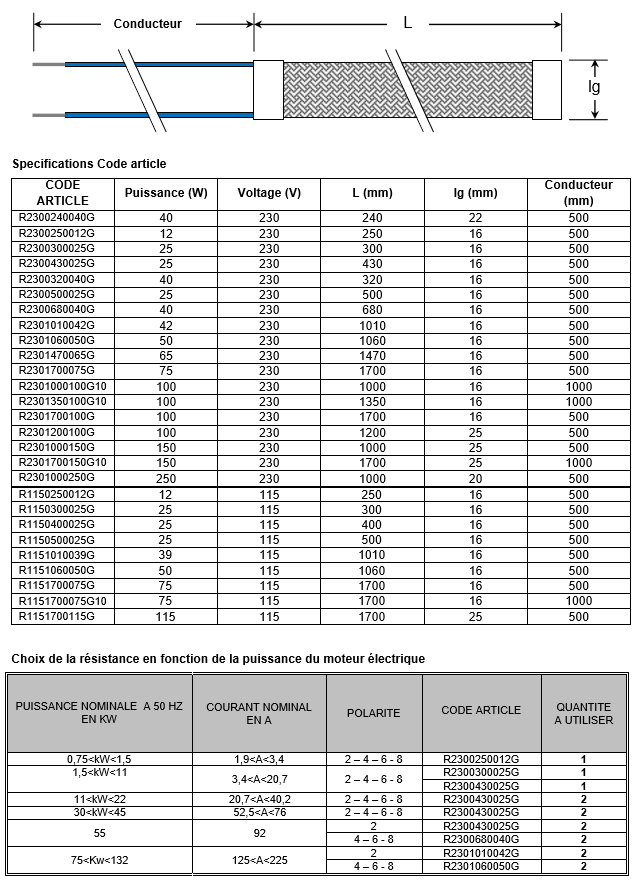 Related products
(8 other products in the same category)