Product features CO2 probe SC - Modbus RS485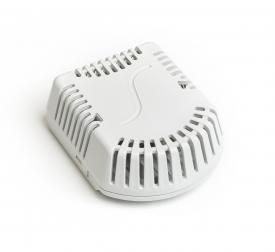 The CO sensor 2 - SC 102 consists of a ridged plastic head with a printed circuit board with CO sensor 2 and a converter for RS 485 communication. The value of CO 2 is measured by an NDIR module whose digital signal is converted into an output signal. MODBUS RTU. A function of self-calibration is available for the CO concentration sensor 2 , which ensures that the sensor is set to a minimum CO value 2 corresponding to the level of external concentration. The CO sensor 2 - SC 102 complies with protection class IP 30 according to EN 60529. The attractive design and quality material ensure that the CO sensor 2 - SC 102 does not interfere even in interiors with high aesthetic demands. The recommended position of the CO sensor 2 - SC 102 is at a height of 1,5 m on the interior wall, in the area where people move, away from sunny places and places affected by wall temperature, heat sources or light.
The CO sensor 2 - SC 102 is designed to operate in a chemically non-aggressive environment. The method of use should be selected based on the temperature and chemical resistance of the sensor head and the individual sensors. Operating conditions to ensure the proper functioning of the CO sensor 2 are the following:
ambient temperature: 0 to 45 ° C

relative humidity: 0 to 85% (non-condensing)

atmospheric pressure: 87 to 106 kPa
Sensor type

SC 102

CO measurement range

2

*

400 to 5000 ppm

CO measurement accuracy

2

*

± 200 ppm

CO reaction time

2

(90%)

90 s

Output signal

RS485 / MODBUS RTU

Supply voltage

15 to 30 V

DC

Nominal supply voltage U

n

24 V

DC

The consumption

max: 500mW




typical: 300 mW

Degree of protection

IP 30 according to EN 60529

Head dimensions

71,9 x 59 x 27 mm

Head material

lexan

The weight

min 35g

Recommended conductor cross-section

0,14 to 1 mm

2
Note: The manufacturer reserves the right to modify the design and technical characteristics of the products.


SENSOR INSTALLATION AND MAINTENANCE
The sensors are designed to be mounted on a wall or other vertical surface. For fixing, it is necessary to prepare the required holes for mounting screws using a template (supplied with the sensor).
Before connecting the power cable, it is necessary to separate the perforated cover from the plastic base. Remove the cover and insert the cable through the 9 mm hole, apply the base to the surface and screw with two screws or bolts. The length of the bolts or fixing screws for fixing should be chosen according to the thickness of the plastic base. Connect the power cable to the terminals in accordance with the "Wiring" section. Diagram: place the perforated cover on the fixed base and lock it by clicking on it. After installation and connection to the electrical measuring device, the sensor is ready for use. The sensor does not require any particular maintenance.