WebSensor - Hygrometer - Remote CO2 concentration thermometer with Ethernet interface, duct mounting
Reference: AR006620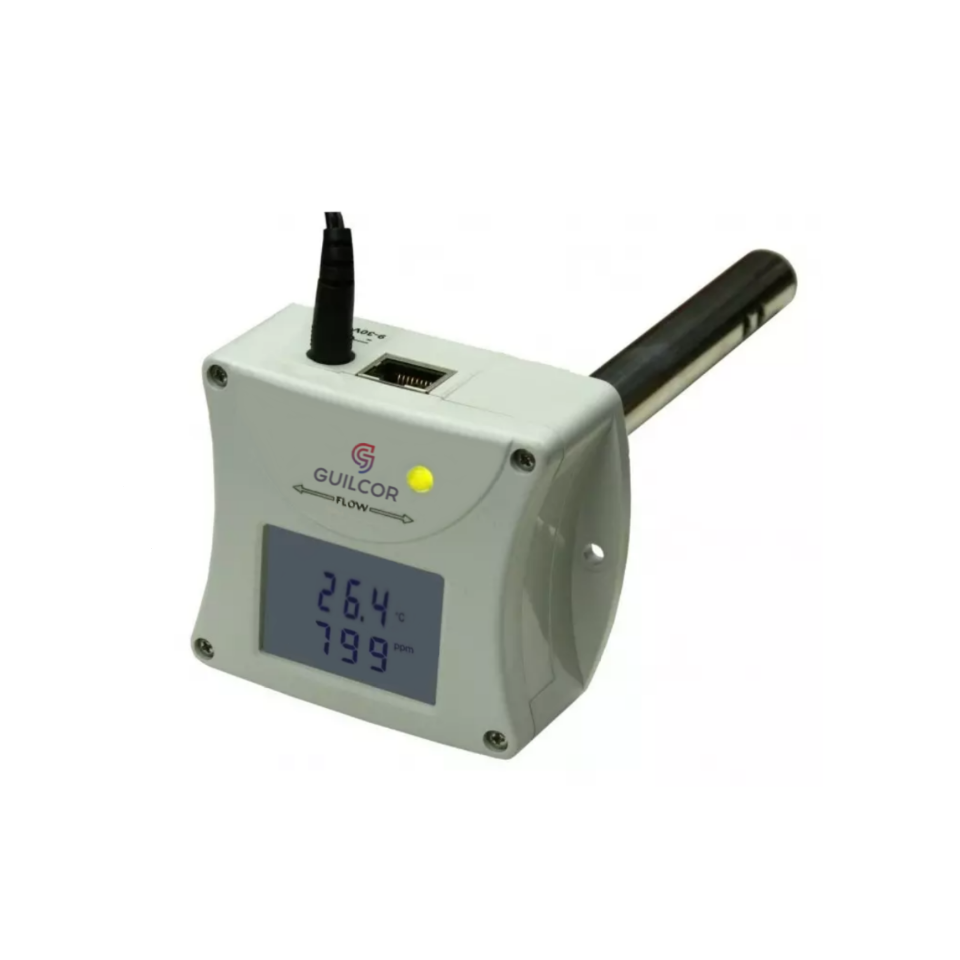 International shipping
Standard or express delivery
Secure Payments
All payments are secure and approved.
Best price guarantee
Contact us to define your payment method.
+33-233-611-670
English - French - German - Spanish
Product details about "WebSensor - Hygrometer - Remote CO2 Concentration Thermometer with Ethernet Interface, Duct Mount"
TECHNICAL DATA


T-line WebSensor Duct Mount CO2 Concentrator.


Web sensor with integrated sensor CO2 concentration, temperature and relative humidity for duct mounting.


A temperature and CO2 adjustment procedure multi-point provides excellent CO2 measurement accuracy over the entire operating temperature range; it is a must for process control and exterior applications.


La NDIR CO2 detection procedure dual wavelength automatically compensates for the effects of aging.


The CO2 module is very pollution resistant and offers operation maintenance free and exceptional long-term stability.


The CO2 concentration is displayed on the screen ou indicated by an LED colored.


Processing and analysis of measured data
Online in Cloud
Database software
Integration into third-party systems



INCLUDED IN DELIVERY
T6545
Manual
Traceable calibration certificate
Free Tsensor configuration software
Cloud for 3 months



MEASURED VALUES
- Temperature
- Relative humidity
- Calculated values ​​(dew point, etc.)
- CO2


TEMPERATURE SENSOR
Measuring range : -30 to +60 ° C
Accuracy: ± 0.4 ° C
Resolution: 0.1 ° C


MOISTURE SENSOR
Measuring range : 0 to 100% RH
Accuracy: ± 2,5% RH
Resolution: 0,1% RH


DEW POINT
Measuring range : -60 to +80 ° C
Accuracy: ± 1,6 ° C at ambient temperature T <25 ° C and RH> 30%
Resolution: 0.1 ° C


CO2 SENSOR
Measuring range : 0 to 2000 ppm
Accuracy: ± (50ppm + 2% of reading) at 25 ° C and 1013hPa
Resolution: 1 ppm


GENERAL TECHNICAL DATA
Operating temperature : -30 to +60 ° C
Canals : internal CO2 sensor
Sortie: Ethernet
Measuring interval: 15 s
Communication protocol : WWW, Modbus TCP, SNMPv1, SOAP, XML
Alarm protocols: Email, SNMP Trap, Syslog
Power : 9-30 Vdc
Protection class: electronics IP30; Sesors IP20
Dimensions: 89 x 73 x 240 mm; rod length 130 mm
Weight: approx. 260 grams
Warranty: 3 years
General
Reference

AR006620

Name

WebSensor - Hygrometer - Remote CO2 concentration thermometer with Ethernet interface, duct mounting
Features
Measured

CO2
Humidity

Product Type

Head / terminal probes

Communication

ETHERNET - TCP / IP