Product features Connection head resistance thermometer with flange and reduction - ATEX intrinsically safe
Features
Single and double TC
Interchangeable mineral insulated measuring insert
Machined solid glove well (drilled) suitable for high pressures
Thermowell diameters: customized, according to customer specifications
Thermowell material: stainless steel 1.4541 (AISI321) or other
ATEX cable gland I M1, II GD, IP65 (cable diameter Ø5..10mm)
Output signal: TC or 4..20 mA (option)



Description
The sensor consists of an interchangeable measuring insert, a drilled thermowell, a neck and an aluminum connection head where the mounting of a temperature transmitter with a 4-20 mA output signal / HART® or Profibus®PA is possible.
The measuring insert is the replaceable part of the complete sensor which reduces the time and cost of maintaining the measuring device installed in the object. The spring-loaded attachment of the measuring insert provides perfect pressure at the bottom of the protection tube, reduces reaction time to temperature changes and increases measurement accuracy and reduces natural vibrations, thus avoiding mechanical and electrical faults .
Insertion length, thermowell design, connection head as well as type and number of sensors and accuracy can be individually selected for the respective application.


Temperature transmitter (option)
The transmitter is mounted inside the sensor connection head: directly on the measuring insert or in the top cap of the head.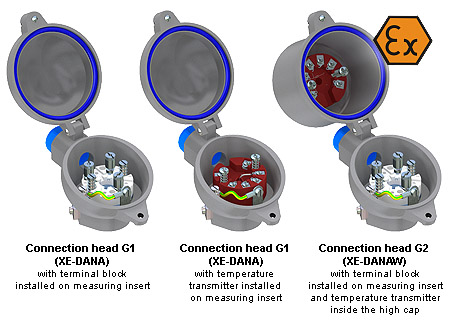 The second method is advantageous because it allows to quickly change the standard measurement support without having to disassemble the transmitter; this means reduced sensor maintenance time and costs and the protection of wires from possible damage. Mounting of two transmitters inside the connection head available on request.


| | | |
| --- | --- | --- |
| | Type G1 | Aluminum, Exe M20x1,5 cable gland, IP68 |
| | Type G2 | Aluminum, Exe M20x1,5 cable gland, IP68 |
| | Type G5 | Aluminum, 2 x Exe M20x1,5 cable gland, IP68 |
| | Type G6 | Aluminum, 2 x Exe M20x1,5 cable gland, IP68 |
These products can interest you