Product features Thermocouple with connection head 1800 ° C ATEX intrinsically safe
Features
Single and double TC
Interchangeable measuring insert
Protective tube material: C799 corundum or C610 mulite
Protective tube diameters:
XI-TT438 thermocouple with outer diameter of douplex ceramic tube. Thermocouple
XI-TT440 Ø24 mm with ceramic tube dia.
XI-TT441 Ø15 mm thermocouple with douplex ceramic tube dia.
Thermocouple XI-TT442 Ø15 mm with ceramic tube dia. Thermocouple
XI-TT443 Ø10 mm with ceramic tube dia. Thermocouple
XI-TT444 Ø8 mm with ceramic tube dia. Ø6 mm
ATEX II GD cable gland, IP65 (cable diameter Ø5..10mm)
Output signal: TC or 4..20 mA (option)



Description
The sensor consists of an interchangeable measuring insert, an outer ceramic protective tube and an aluminum connection head where the mounting of a temperature transmitter with a 4-20 mA / HART output signal ® or Profibus®PA is possible.
The measuring insert used is an interchangeable part of the sensor, which means that only the insert and not the entire sensor should be disassembled in the event of damage or for periodic inspection. Maintenance costs are then reduced.
Thermocouple length, ceramic tube diameter, connection head as well as type and number of sensors, accuracy and connection method can be individually selected for the respective application.


Temperature transmitter (option)
The transmitter is mounted inside the sensor connection head: directly on the measuring insert or in the cap
top of the head.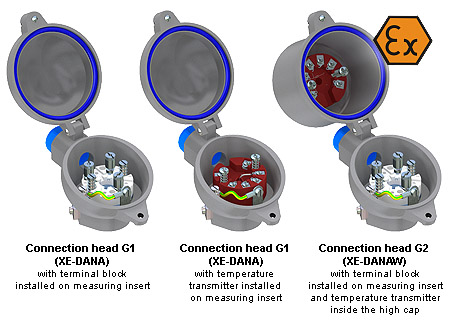 The second method is advantageous because it allows to quickly change the standard measurement support without having to disassemble the transmitter; this means reduced sensor maintenance time and costs and the protection of wires from possible damage. Mounting of two transmitters inside the connection head available on request.


| | | |
| --- | --- | --- |
| | Type G1 | Aluminum, Exe M20x1,5 cable gland, IP68 |
| | Type G2 | Aluminum, Exe M20x1,5 cable gland, IP68 |
| | Type G5 | Aluminum, 2 x Exe M20x1,5 cable gland, IP68 |
| | Type G6 | Aluminum, 2 x Exe M20x1,5 cable gland, IP68 |
These products can interest you