Product features ATEX notch resistance thermometer with fixed measuring point
Features
Single and double design
2, 3, 4-wire measuring circuit
Detection element:
Pt100, Pt500, Pt1000 (IEC 751)
Ni100, Ni500, Ni1000 (DIN 43760)
Cu50, Cu100 (GOST 6651-2009)
Design of the sensitive element:
single point (CHIP)
Wide range of designs
Temperature class F (+ 155 ° C), H (+ 180 ° C)
Non-standard parameters available on request:
- non-standard size
- cables according to customer specifications
Dielectric strength 2,5 kVAC / 60 sec., En
5,0 kVAC / 60 sec option.


Temperature difference
-60 .. + 155 ° C (temperature class F)
-60 .. + 180 ° C (temperature class H)


CHIP construction (point)
CHIP GXE-TOPE600R temperature sensors, also known as winding stator temperature sensor, are installed in winding slots for temperature measurement and for protection against insulation damage in case of overheating. It is recommended for the motor to use six temperature sensors, two for each phase. Temperature sensors should be installed in the hottest part of the winding for best efficiency results.
The sensitive element of the CHIP RTD is installed inside the epoxy laminate sheet. The cable is connected to the sensor and sealed with epoxy resin. These stator RTDs are a cheaper solution than the two-wire construction.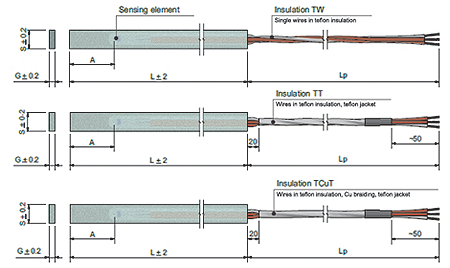 Due to the very good dielectric parameters of HGW and the special composition of epoxy resin, these sensors have high mechanical stability and high voltage resistance of 2,5 kV to 5,0 kV optional.


Autres versions
This datasheet is only a small portion of our cable resistance thermometer supply program. On customer request, other versions can also be delivered.


cable insulation
2x0,22 mm2; Threads: teflon® PFA; Jacket: teflon® PFA
3x0,22 mm2; Threads: teflon® PFA; Jacket: teflon® PFA
3x0,22 mm2; Threads: teflon® PFA; Screen: Cu braiding; Jacket: teflon® PFA
4x0,22 mm2; Threads: teflon® PFA
4x0,22 mm2; Threads: teflon® PFA; Jacket: teflon® PFA
4x0,22 mm2; Threads: teflon® PFA; Screen: Cu braiding; Jacket: teflon® PFA
6x0,22 mm2; Threads: teflon® PFA; Screen: Cu braiding; Jacket: teflon® PFA
3x0,50 mm2; Threads: teflon® FEP
3x0,50 mm2; Threads: teflon® FEP; Screen: Cu braiding; Jacket: teflon® FEP
4x0,50 mm2; Threads: teflon® FEP
4x0,50 mm2; Threads: teflon® FEP; Screen: Cu braiding; Jacket: teflon® FEP
6x0,50 mm2; Threads: teflon® FEP
6x0,50 mm2; Threads: teflon® FEP; Screen: Cu braiding; Jacket: teflon® FEP
8x0,50 mm2; Threads: teflon® FEP
8x0,50 mm2; Threads: teflon® FEP; Screen: Cu braiding; Jacket: teflon® FEP
These products can interest you