Product features Increased Safety ATEX Notch Resistance Thermometer
Features
Single and double design
2, 3, 4-wire measuring circuit
Sensitive element:
Pt100 (IEC 751)
Ni100 (DIN 43760)
Cu50 (GOST 6651-2009)
Design of the sensitive element:
bifilar wound
A wide range of designs
Temperature class F (+ 155 ° C), H (+ 180 ° C)
Non-standard parameters available on request:
- non-standard size
- cables according to customer specifications
Dielectric strength 2,5 kVAC / 60 sec., En
5,0 kVAC / 60 sec option.


Description
Insert these thin, laminated RTDs into the winding slots to sense high temperatures before the insulation gets damaged. Six sensors are recommended for each motor, two per phase. Locate the sensors near the hottest point of the windings for best performance.
The temperature sensors are two-wire wound, they allow the temperature to be measured over almost the entire length of the housing. This eliminates the risk of missing a hot (or overheated) part of the point sensor insulation (CHIP).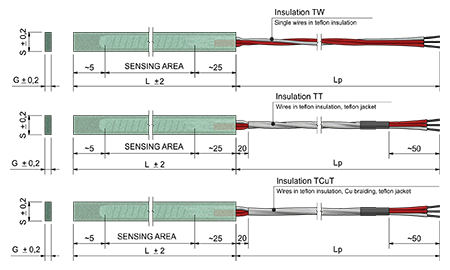 A bifilar platinum wire wound is placed inside the epoxy laminated glass sheet. The connection cables are connected with two-wire wiring, they usually come in Teflon insulation. The sensor has high mechanical stability and does not require additional insulation for a high voltage of 2,5 kV - and optionally 5,0 kV.
Dimensions of the laminate sheet, length and insulation of the patch cable can be selected according to the needs / requirements of the application


Unique design of a wire wound core


In our sensors we use a unique two-wire winding method, so that the wire does not "break" at the edges of a specially prepared core. This makes thermometers almost completely resistant to corona discharges or other sudden power transients.


Autres versions
The data mentioned above is only a small part of our stator temperature sensor supply program. On customer request, other versions can also be delivered.


cable insulation
2x0,22 mm2; Threads: teflon® PFA; Jacket: teflon® PFA
3x0,22 mm2; Threads: teflon® PFA; Jacket: teflon® PFA
3x0,22 mm2; Threads: teflon® PFA; Screen: Cu braiding; Jacket: teflon® PFA
4x0,22 mm2; Threads: teflon® PFA
4x0,22 mm2; Threads: teflon® PFA; Jacket: teflon® PFA
4x0,22 mm2; Threads: teflon® PFA; Screen: Cu braiding; Jacket: teflon® PFA
6x0,22 mm2; Threads: teflon® PFA; Screen: Cu braiding; Jacket: teflon® PFA
3x0,50 mm2; Threads: teflon® FEP
3x0,50 mm2; Threads: teflon® FEP; Screen: Cu braiding; Jacket: teflon® FEP
4x0,50 mm2; Threads: teflon® FEP
4x0,50 mm2; Threads: teflon® FEP; Screen: Cu braiding; Jacket: teflon® FEP
6x0,50 mm2; Threads: teflon® FEP
6x0,50 mm2; Threads: teflon® FEP; Screen: Cu braiding; Jacket: teflon® FEP
8x0,50 mm2; Threads: teflon® FEP
8x0,50 mm2; Threads: teflon® FEP; Screen: Cu braiding; Jacket: teflon® FEP


These products can interest you