Temperature and humidity regulator with 230Vac / 8A relay, hygrostat
Reference: AR004558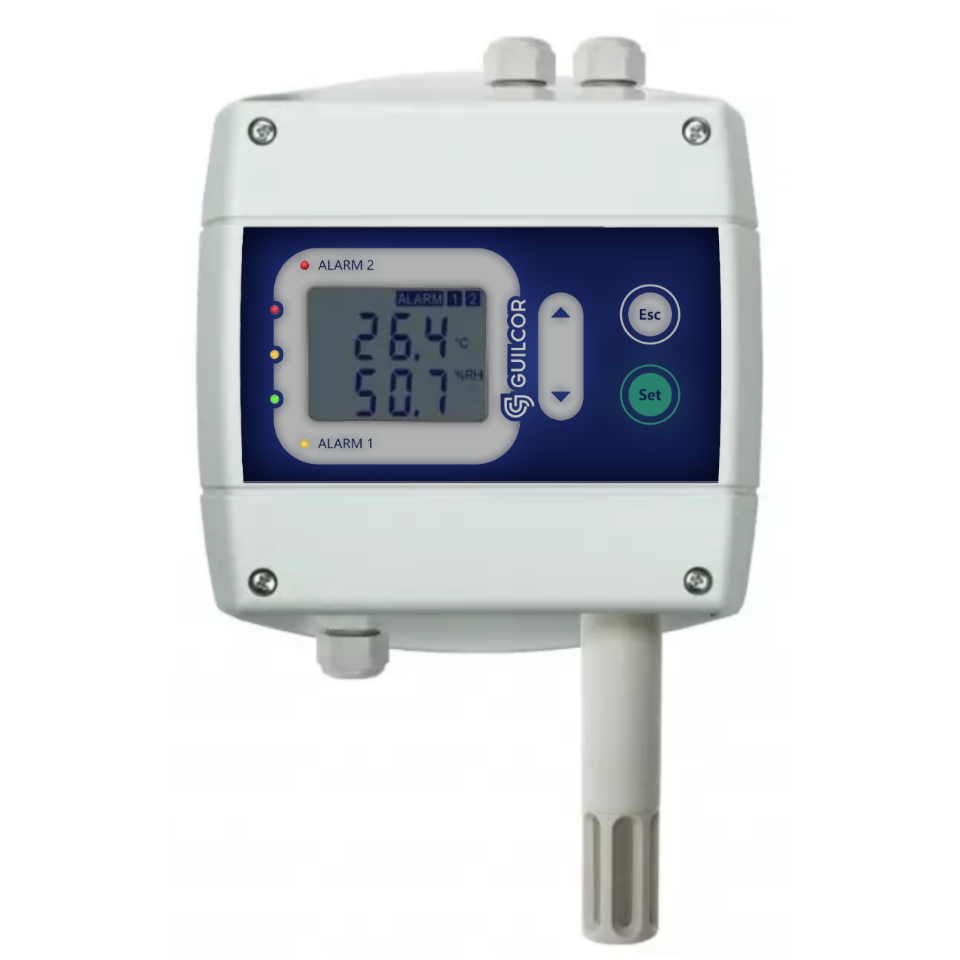 International shipping
Standard or express delivery
Secure Payments
All payments are secure and approved.
Best price guarantee
Contact us to define your payment method.
+33-233-611-670
English - French - German - Spanish
Product details about "Temperature and humidity controller with relay 230Vac / 8A, hygrostat"
TECHNICAL DATA


Temperature regulator, humidity with two relay outputs.


Use Case exterior and interior.


Integrated humidity and temperature sensors.


Measured values ​​are also converted in another interpretation of humidity: dew point temperature, absolute humidity, specific humidity, mixing ratio, specific enthalpy.


INCLUDED IN DELIVERY
AR004558
Manual
Traceable calibration certificate
Free Tsensor configuration software



MEASURED VALUES
- Temperature
- Relative humidity
Maximum switching voltage, relay output current: 250Vac, 8A
Audible alarm: from integrated beeper - switchable
Relative humidity range: 0 to 100%
Accuracy of the relative humidity measurement: ± 2,5% relative humidity from 5 to 95% at 23 ° C
Accuracy of temperature output: ± 0.4 ° C
Available temperature units: degrees Celsius, Fahrenheit
Dew point output accuracy and range - for details see graphs: ± 1,5 ° C at ambient temperature T <25 ° C and relative humidity> 30%
range -60 to +80 ° C
Accuracy and absolute humidity output range: ± 1,5 g / m3 at ambient temperature T <25 ° C
range from 0 to 400 g / m3
Accuracy and specific humidity output range: ± 2 g / kg at room temperature T <35 ° C
range 0 to 550 g / kg
Accuracy and output range of mixing ratio: ± 2g / kg at ambient temperature T <35 ° C
range from 0 to 995 g / kg
Precision and range of specific enthalpies: ± 3 kJ / kg at ambient temperature T <25 ° C
range: 0 to 995 kJ / kg
Temperature operating range: -30 to + 80 ° C
LCD display operating temperature range: readable at an operating temperature of + 70 ° C, it is recommended to turn off the LCD screen above 70 ° C
Temperature compensation of humidity sensor: the entire temperature range
Filtering capacity of the sensor cover: 0.025mm - filter with stainless steel mesh
IP protection: Electronics IP65, sensors IP40
Supply : 110 to 240V / 50Hz to 60Hz
Current consumption: 230 VAC - max. 70 mA, 115 VAC - max. 120 mA
Dimensions: 136 x 214 x 45mm (W x H x D), rod length 75mm
Weight: about 390g
Warranty: 3 years
General
Reference

AR004558

Name

Temperature and humidity regulator with 230Vac / 8A relay, hygrostat
Features
Measured

Humidity

Product Type

regulators
5 other products in the same category: