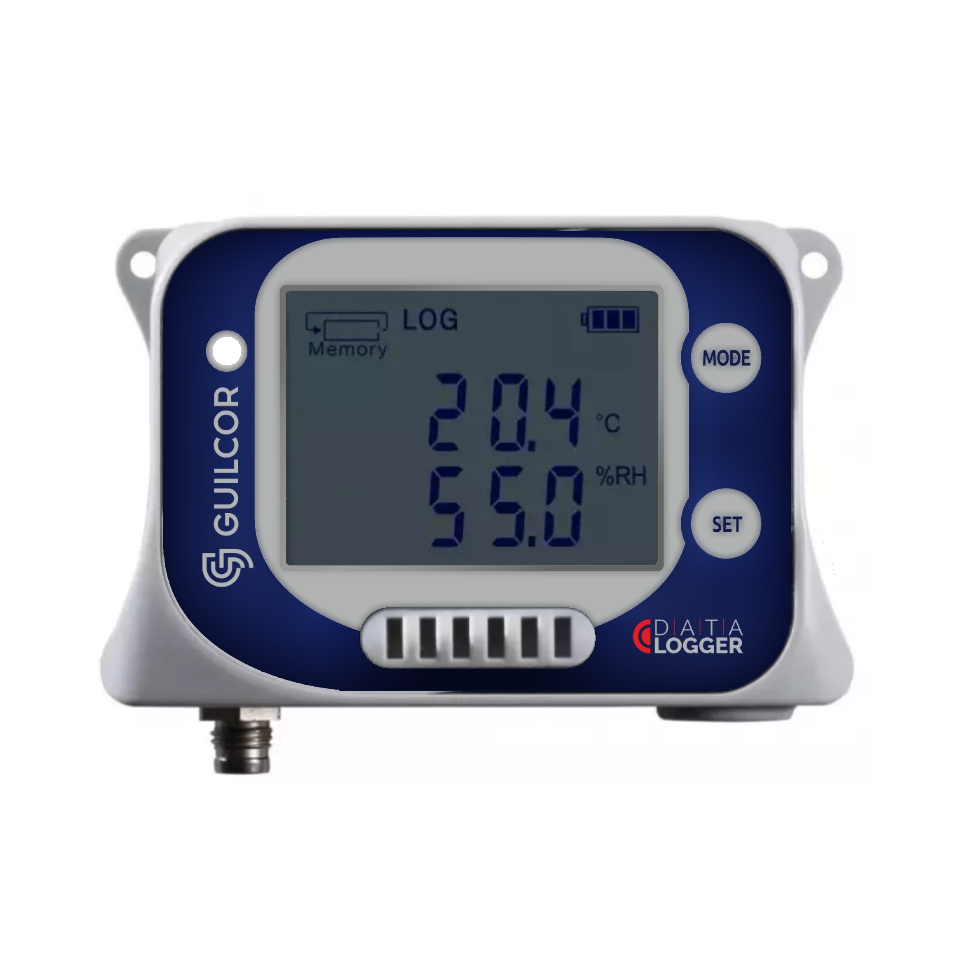 Temperature and humidity data logger with connector for external temperature probe
Reference AR006080
Product features Temperature and humidity data logger with connector for external temperature probe
TECHNICAL DATA


The GSM data logger is designed to record the temperature and humidity.


The recording is carried out in a non-volatile electronic memory.


The data can be transferred to a PC via USB-C.


The recorder includes a calibration certificate traceable with declared metrological traceability of standards based on the requirements of EN ISO / IEC 17025.


INCLUDED IN DELIVERY
U3631
Manual
Traceable calibration certificate
1x 3,6 V lithium battery
FREE COMET Vision analysis software
External probes are not included.
USB communication cable is not included.


MEASURED VALUES
- Temperature
- Relative humidity
- Calculated values ​​(dew point, etc.)


TEMPERATURE SENSOR
Measuring range : -30 to +70 ° C
Accuracy: ± 0.4 ° C
Resolution: 0.1 ° C


TEMPERATURE SENSOR - external Pt1000 probe
Measuring range : -90 to +260 ° C
Accuracy: ± 0,2 ° C (-50 to +100 ° C); ± 0,2% between +100 and +260 ° C; ± 0,4% between -90 and -50 ° C
Resolution: 0.1 ° C


MOISTURE SENSOR
Measuring range : 0 to 100% RH
Accuracy: ± 1,8% RH
Resolution: 0.1% HR


DEW POINT
Measuring range : -90 to +70 ° C
precision: ± 1,5 ° C at ambient temperature T <25 ° C and RH> 30%
Resolution: 0.1 ° C


GENERAL TECHNICAL DATA
Operating temperature : -30 to + 70 ° C
Canals : internal temperature and humidity sensor, 1x external temperature sensor
Memory : 500 values ​​in non-cyclic logging mode; 000 values ​​in cyclic recording mode
Recording interval: adjustable from 1 s to 24 h
Alarm display and refresh: adjustable 1 s, 10 s, 1 min
Recording mode: non-cyclic - data logging stops after filling the memory
cyclic - after filling the memory, the oldest data is overwritten by a new one
Real time clock : year, leap year, month, day, hour, minute, second
Supply : 3.6V lithium battery, size AA
Protection class: Electronic IP67; IP30 sensors
Dimensions: 61 x 93 x 32 mm
Weight (batteries included): Approx. 120 g
Warranty: 3 years
These products can interest you