ATR902 *Step required
ATR902-12ABC
1 analog Inp. + 2 relays 1A -230 V AC / DC
International shipping
FREE shipping in EU from 70 € HT purchase
Secure Payments
All payments are secure and approved.
Best price guarantee
Contact us to define your payment term.
+33-233-611-670
English - French - German - Spanish
Cycle programmer for industrial furnaces ATR902
Portable programmable controller 15 cycles / 18 steps

Handheld programmer with multi-pole connector, single loop control. It allows programming of 15 cycles / programs that can provide up to 18 steps / segments, freely configurable by the user. Easy and intuitive programming and display even for untrained operators.
Specially designed for the automation of particular furnaces, but also professional, for the manufacture of ceramics, glass or laboratory applications requiring programming cycles / curves with the control of temperature versus time. The software features Start Delayed, wait for the end of the step (in the case of delay of the process to the programmed setpoint) and the cycle recovery mode (after power failures). The multipolar connector compatible with the ATR900 / 901 series does not require any wiring and allows immediate connection / installation.
Universal input for all common thermocouples and two selectable outputs as control or alarm / auxiliary, adjustment with increased precision thanks to the new predictive PID algorithm. All options are configurable from the keypad.

Key Features
Housing
120 x 65 (front panel) x 65 mm
Power source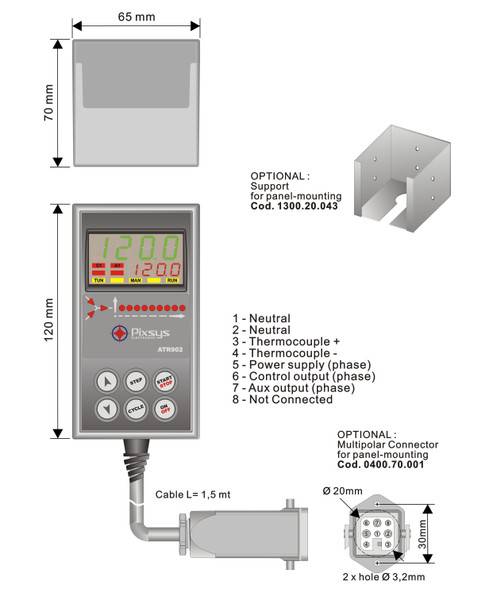 24 ... 230Vac / Vdc ± 15% 50/60 Hz
List it Now
4-digit display 0,56 "red + 4-digit 0,4" green + Bargraph
Operating conditions
Temperature 0-45 ° C, humidity 35..95 uR% (non-condensing)
Material
Box: ABS; Front panel: polycarbonate
Sealing
IP65 (front panel), IP20 (boxes and terminals)
Accessories
7-pole / female connector (oven side), Bracket for panel mounting

The entrees
1 configurable
TC K, S, R, J, T, E, N selection by parameter

The exits
Relais
1 Relay 8A - Resistive load 250 Vac + 1 Relay 8A - 250 Vac for alarm / auxiliary

Software features
Control algorithms
ON - OFF with hysteresis, P., PI, PID, PD proportionally
Setting
Automatic, automatic predictive
Data protection
Access to parameters by password, Change of setpoint during the cycle only if activated by parameter
Alarm modes
Absolute / Threshold, band, high / low deviation, auxiliary delay programmable on one step
Hold function
Maintain the current setpoint, with Start / Stop via keypad
Standby function
Special function to compensate for SPV / PV differences in case of overloaded system
Cycle recovery function
Resume cycle after unexpected power failure
Setpoint controller mode
Regulation on a fixed set point (the function can be activated from the general menu or during an ongoing cycle)
Delayed start
Cycle start delayed by parameter
Information
Measured

Temperature

Product Type

regulators

Regulator type

Oven regulator
Related products
(8 other products in the same category)