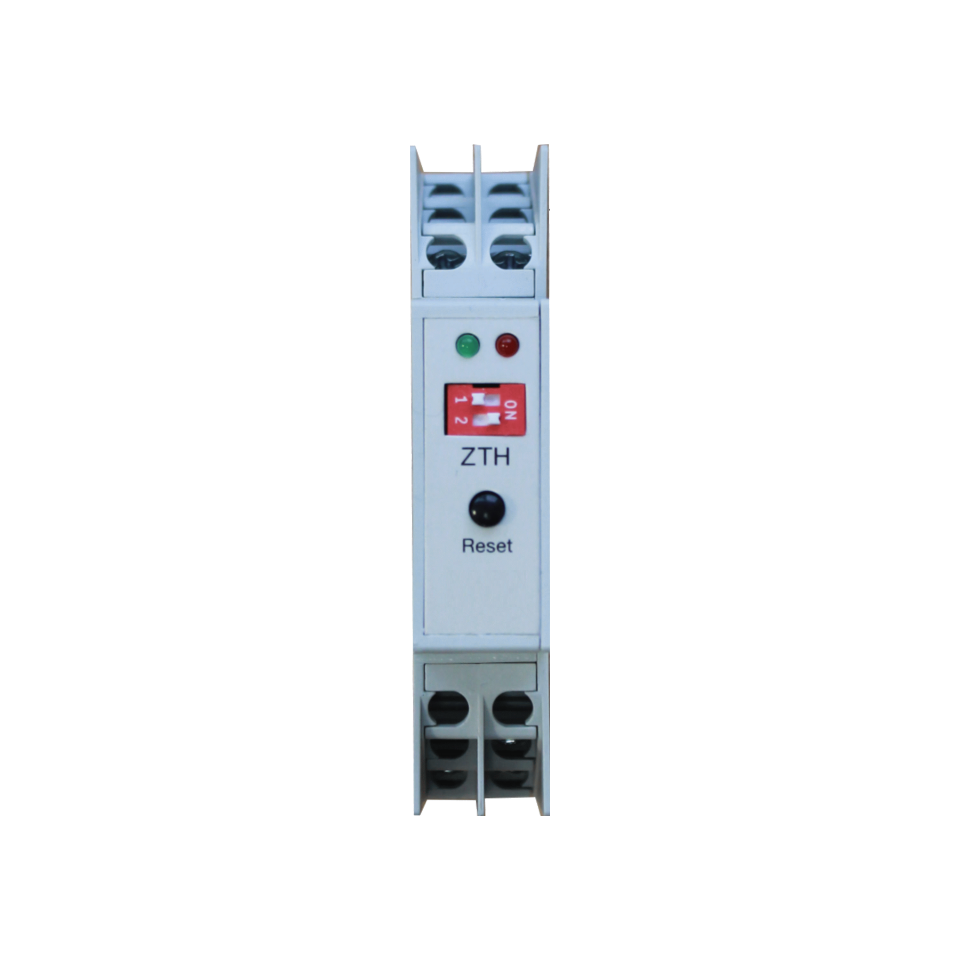 Product features 2 CTP relay outputs
12V / 24V / 230V protection relay for PTC probes, 1 or 2 outputs, type 17,5mm
Description
A maximum of 6 thermistors can be connected to sensor terminals P1 and P2. The relay power supply (12V AC / DC, 24V AC / DC, 230V AC) is connected to terminals A1 and A2. The green LED indicates that the relay is energized.
Function
The ZTH uses a closed circuit principle, the relay output switches immediately to its working position as soon as the resistance of the sensor is less than 1,5KOhms. After the thermistor has reached its nominal temperature (resistance> 3,2KOhms), the relay switches to its rest position. This status is indicated by the red LED.
The measuring circuit is electrically isolated from the power supply.
Options
Other supply voltages are available on request.
Adjustable relay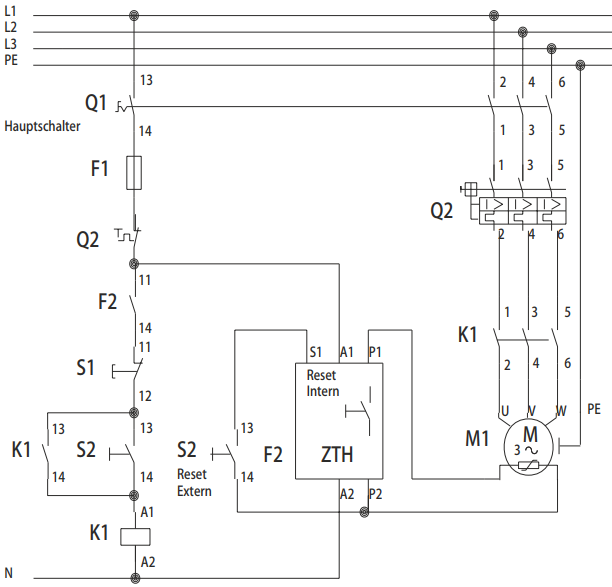 With restart inhibitor
(Includes reset button)
With short circuit monitoring
Without restart inhibitor
With short circuit monitoring
With restart inhibitor
(Memory with reset button)
Without short circuit monitoring
Without restart inhibitor
Without short circuit monitoring
Technical Data
Frequency range: 50 ... 60 / 0Hz
Power consumption: 1 VA at 24V / 6 VA at 230V
Operating mode: continuous
Measuring range
Temperature sensor: PTC sensor according to DIN 44081/082
Number of sensors: 1 to 6 units in series
Total PTC resistance: <1.5k
Sensor voltage: <5V
Sensor current: approx. 1mA
Line resistance <100 without short circuit
In the range of sensors: monitoring <10 with short circuit
surveillance
Operation indicators
Supply voltage: LED, green
Relay in rest position: LED, red
Contact
Number of changes: 1 or 2
Contact material: AgNi 0.15
Max. Switching power: 2000VA
Max. Switching voltage: 400V
Max. Switching current: 8 A
6 mechanical life: 30 x 10 ^ 6
General data
Ambient temperature: - 25 ... + 60 ° C
Mounting position: all
LVD 2014/35 / EU: 60255-5
EMC Dir. 2014/30 / EU: 60255-26
Connection terminals: +/- screws; M3.5
Connection section: 2 x 2,5mm²
Mounting: symmetrical DIN rail
EN 50022
Dimensions lxwxh: 90mm x 17.5mm x 69.5mm
Weight: 100 g
Approvals: RoHs
These products can interest you