Bayonet probe, 8mm, -50 to 400 ° C
Reference: G05.02
International shipping
Standard or express delivery
Secure Payments
All payments are secure and approved.
Best price guarantee
Contact us to define your payment method.
+33-233-611-670
English - French - German - Spanish
Product details about "Bayonet probe, 8mm, -50 to 400°C"
Description and application
All of this resistance sensors are primarily designed for temperature measurement of solid substances, but can also be used for temperature measurement of liquids or gaseous substances. To mount the sensor on the measuring point, use a bayonet nut screwed on a spring. The combination of bayonet nut, spring and connector matching bayonet can provide higher contact pressure from the sensor to the measuring point or correct for any change in the distance between the nut and the measuring point during the measurement.
The maximum temperature range of the sensors is between - 50 and 350°C (400°C short term). The range of individual design variations is narrowed down to the type of temperature sensing element and power cable. The sensors meet the protection level from IP 50 to IP 67 according to EN 60529, depending on the type of input cable. The sensors are designed to operate in a non-aggressive environment. The method of use should be selected based on the temperature and chemical resistance of the enclosure and input cable.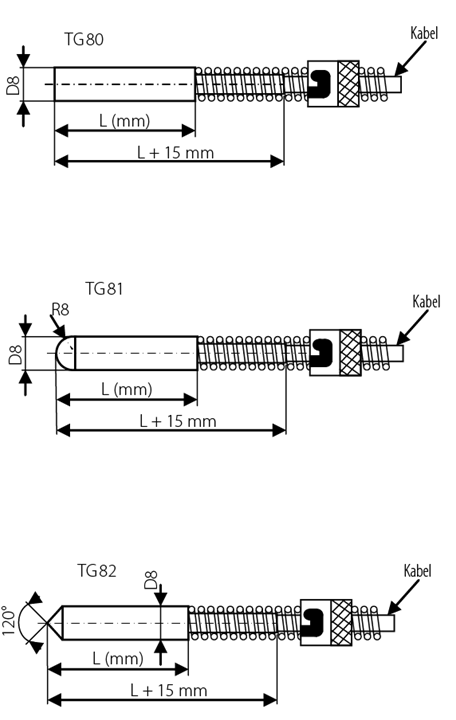 Sensor type
G05.02
End of the case

straight ahead

half sphere R8

summit 120 °

Sensitive element

all types




(Pt 100, Pt 1000, Ni 1000, Ni 10000, Ni 2226 = T1, NTC, PTC, KTY,




TSiC, DALLAS, thermocouple K, thermocouple J, thermocouple T and so on)

Housing

DIN 1.4301 stainless steel

Case diameter
8 mm
Case length

10 to 85 mm (with addition of 15 mm for fixing the cable)

Input cable variations /




temperature range




(may be limited by the type of sensitive element




- to be determined in the documentation)

Shielded PVC -30 to 80 ° C




Unshielded PVC -40 to 105 ° C




silicone -50 to 200 ° C




armored teflon -50 to 250 ° C




with fiberglass 0 to 400 ° C




(with metallic braid)

Protection sign

PVC and silicone cables IP 67 cables in




IP 64 teflon conforming to standard EN 60529




Fiberglass cables IP 50

Material / Size of bayonet nut

nickel-plated brass / L = 18 mm, internal diameter 15 mm

Spring material / dimension

DIN 1.4301 stainless steel




/ L = 200 mm, outside Ø 8 mm, wire Ø 0,9 mm

Insulation resistance

200 MΩ at 500 V DC

Maximum permissible static traction on the input cable
1 kg
General
Reference

G05.02

Name

Bayonet probe, 8mm, -50 to 400 ° C
Features
Product Type

DS18B20
KTY
NTC
Ni1000
Ni10000
PTC
Pt100
Pt500
Pt1000
Thermocouple

Maximum operating temperature

400°C

Diameter

8 mm

Model

Right-footed

Cable length

Custom projects
4 other products in the same category: