RS485 Modbus temperature probe - plastic connection head
In production :
3 to 5 weeks
All of this
temperature sensors with stainless steel tube and plastic head with digital output RS 485 / MODBUS - SD 102
are designed for measuring the temperature of gaseous substances and

liquids.

In combination with the central support, the sensor is suitable for measuring the temperature in air conditioning ducts.

The sensor / well combination is suitable for direct measurement in the pipeline. VS

he temperature sensor is easy to mount thanks to the unique "S head" design.
International shipping
FREE shipping in EU from 70 € HT purchase
Secure Payments
All payments are secure and approved.
Best price guarantee
Contact us to define your payment term.
+33-233-611-670
English - French - German - Spanish
This sensor comprises a plastic head and stainless steel tube in which is placed a temperature sensor. In the head is a terminal block or a converter with a terminal block, to which the power cable intended to supply the sensor and to the digital output signal are connected via a cable gland and a connector.
SD 122, communication protocol SD 122K MODBUS / RTU, RS485 communication
The temperature range of the sensors is defined in the table of technical parameters for each variant. The sensors comply with the protection class IP 65 in accordance with the modified standard EN 60529.
The sensors are designed to operate in a chemically non-aggressive environment, the method of use must be chosen according to the temperature and the chemical resistance of the sensor head.
The sensor is manufactured in a variant: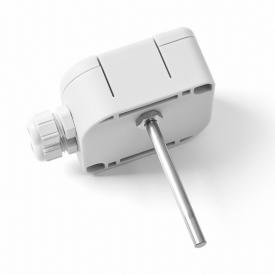 SD 122

- the control structure corresponds to the ModBus RTU communication protocol.
ACCESSORIES
central plastic support
stainless steel etablowmowell JS 130
central metal support

screw with collar or cutting rings - if different immersion lengths of the temperature sensor are set
DECLARATION, CERTIFICATION, CALIBRATION
The manufacturer provides

an EU declaration of conformity.
Calibration

- The final metrological control - comparison with standards or working instruments - is carried out for all products.

The continuity of standards and work measurement instruments is ensured within the meaning of article 5 of Law No. 505/1990 on metrology.

The manufacturer offers the possibility of supplying the calibrated sensors.
Sensor type

SD 122

Power source

10 to 35 V DC (not stabilized) 12 to 24 V AC

Energy consumption
max. 1000 mW
Measuring range

-50 to 150 ° C

Communication properties

communication via RS 485 maximum segment length is 1200 m, asynchronous transfer

preset transfer speed 9600 Bd optional transfer speeds 1200, 2400, 4800, 9600, 19200, 57600, 115200 Bd - DIP switch

247 modules / 1 serial port

ModBus RTU protocol 1 stop bit, no parity

Electronics accuracy *)
± 0.2 ° C
Type / precision of the sensitive element *)

Pt 1000 / ± (0.3 + 0.005 | t |)

Resolution
0.01 ° C
Ingress protection

IP 65 according to EN 60529

Standard rod length
70, 120, 180, 240 mm
Sensor rod material

DIN 1.4301 stainless steel

Connection head material
POLYAMIDE
Working conditions
ambient temperature: -30 to 70 ° C

relative humidity: max.

85% (at room temperature 25 ° C)

atmospheric pressure: 70 to 107 kPa

Weight
0.2 kg
Information
Measured

Temperature

Communication

RS485 - MODBUS
Related products
(8 other products in the same category)