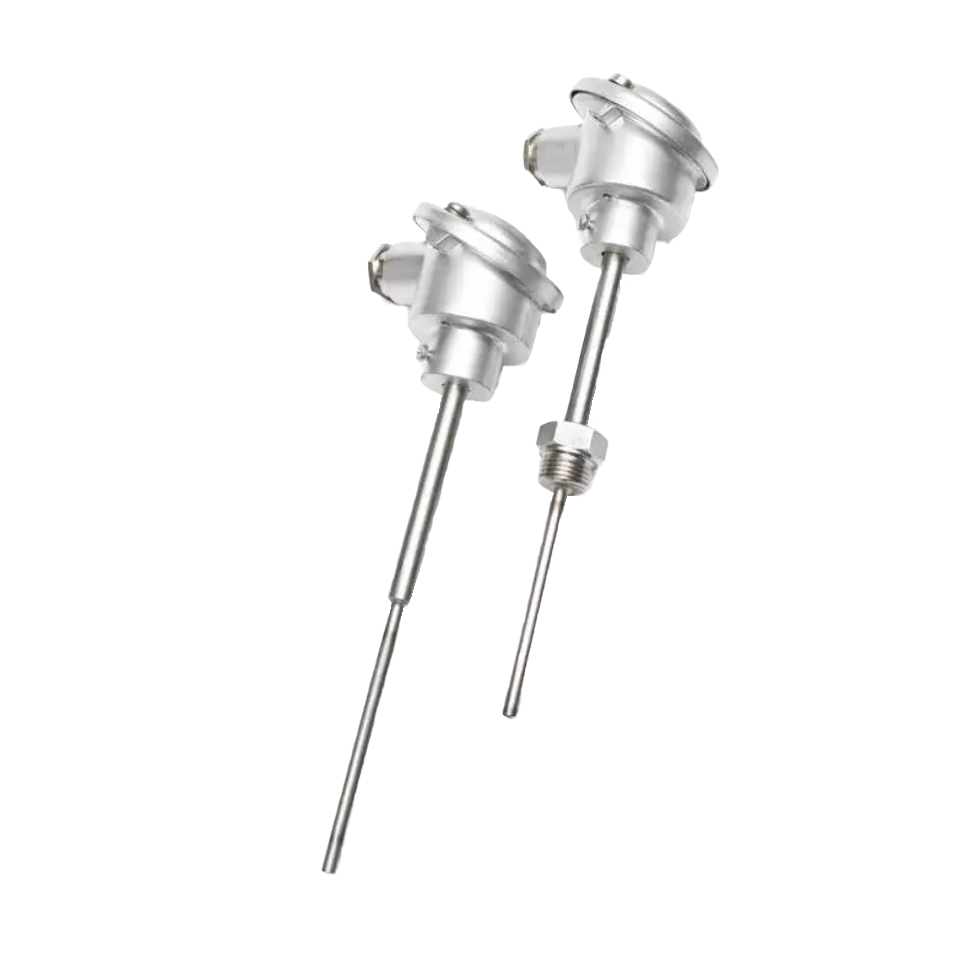 Probe with connection head - 4 ... 20mA converter
Product features Probe with connection head - 4 ... 20mA converter
DESCRIPTION AND APPLICATION
All of this resistance sensors are designed to measure temperatures by contact ranging up to 400°C. Temperature sensors, combined with a central support or a thermowell, can be used to measure temperature in various applications in an industrial environment.
The sensor variant with welded thread is ideal for direct measurement of fluids in pipes. The temperature range of operation standard is between -50 and 400 ° C. The sensors can be used for all control systems compatible with the 4 to 20 mA output signal.
The sensors are designed to operate in a chemically non-aggressive environment.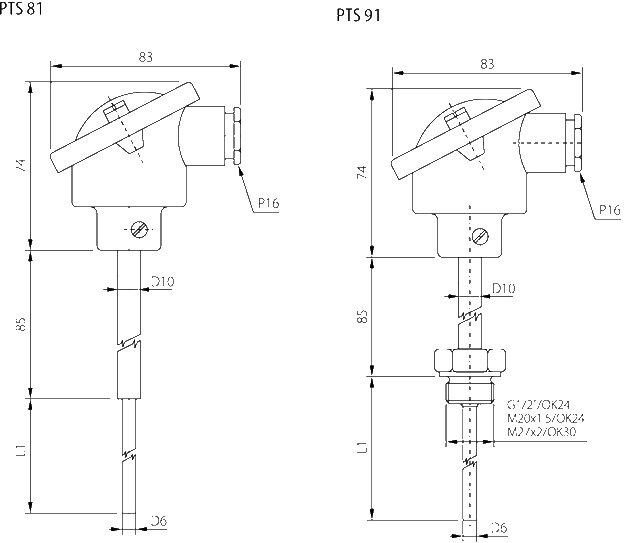 ACCESSORIES

K 120 central metal support
JPTS 41 stainless steel thermowell

Screw with collar or cutting rings - if different immersion lengths of the temperature sensor are set
DECLARATION, CERTIFICATION, CALIBRATION
The manufacturer provides

an EU declaration of conformity.
Calibration

- The final metrological control - comparison with standards or working instruments - is carried out for all products.

The continuity of standards and work measurement instruments is ensured within the meaning of article 5 of Law No. 505/1990 on metrology.

The manufacturer offers the possibility of supplying the calibrated sensors.
Type of smooth rod sensor




Type of welded screw sensor

PTS 81




PTS 91

Sensitive element type

Point 1000/3850

Output signal

4 to 20 mA

Measuring range




-50 to 400 ° C

Adjustable measuring range

optional, minimum interval 10 ° C

Sensitive element accuracy

class B according to EN 60751

Converter accuracy

temperature error <0,05 ° C




setting error <0,12 ° C




linearity error <0,05% of set range, minimum 0,16 ° C




influence of supply voltage <0,005% / V of range

Current limiting

sensitive element <3,2 mA




rupture of the sensitive element> 22,7 mA

Input connection

1,5 to 2,5 mm

2

Protection sign

IP 54 according to EN 60529

Rod material

DIN 1.4301 stainless steel

Standard length of rod L1
50, 100, 160, 220, 280, 400 mm
Nominal rod pressure

PN 63 (with wire)

Programming method

AY - USB adapter *

PTS 91 thread types

G 1/2 "; M 20 x 1,5; M 27 x 2

Insulation resistance

> 200 MOhm at 500 V DC, 25 ° ± 3 ° C;

humidity <85%

Connection head material
aluminum alloy, LIMATHERM B
Operating conditions

ambient temperature: -25 to 70 ° C




relative humidity: max 100% (at room temperature 25 ° C)




atmospheric pressure: 70 to 107 kPa

Weight
0.25 kg
* programming software is free
MAXIMUM FLOW SPEED OF MEASURED MEANS - AIR AND WATER / WATER VAPOR [ms -1 ]

Length of thermowell / rod

> 60 to 100 mm

> 100 to 160 mm

> 160 to 220 mm

> 220 to 400 mm

Values ​​for the version with thread



Zones
Zones
Zones
Zones
Note: le manufacturer reserves the right to modify the design and technical characteristics of the products. For real information, please always contact your dealer.
These products can interest you