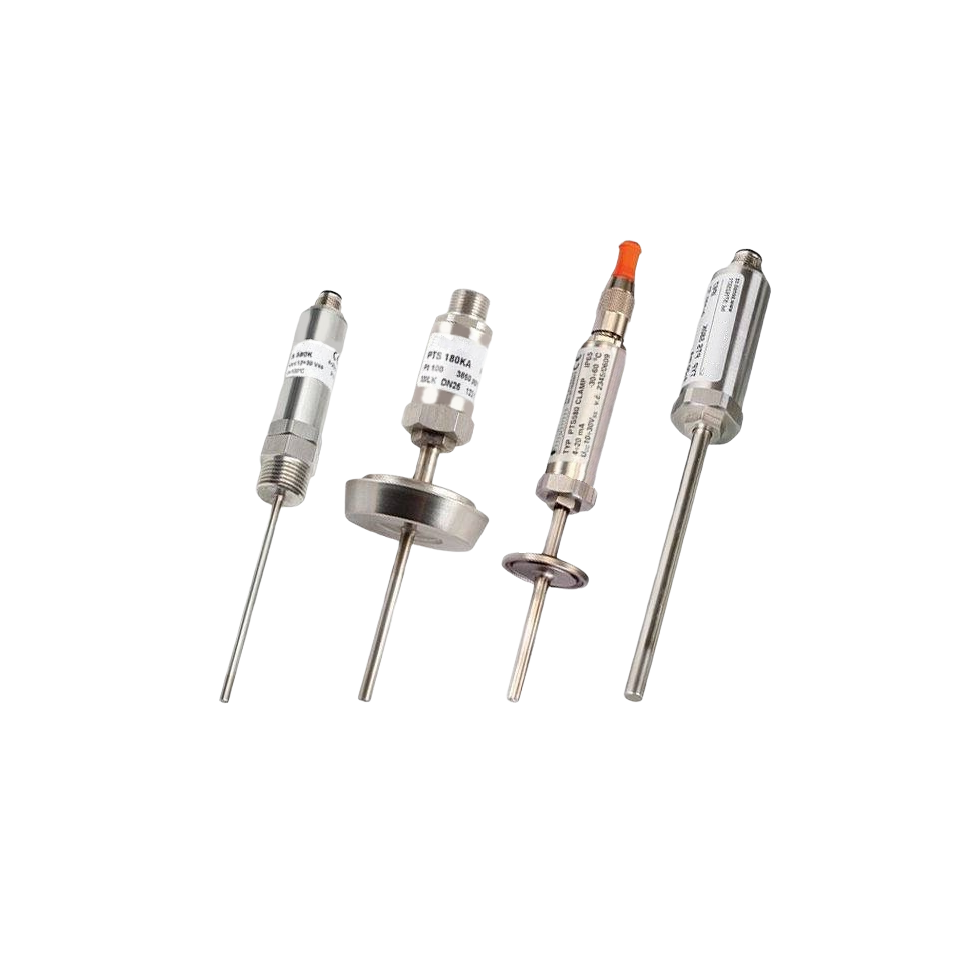 Temperature probe with stainless steel connection head and RS485 output
Product features Temperature probe with stainless steel connection head and RS485 output
DESCRIPTION AND APPLICATION
All of this temperature sensors with RS 485 output are intended for contact measurements of the temperatures of liquid and gaseous substances. The standard temperature range in which the sensors can be used is between -50°C and 150°C. The sensors meet the standard IP 67 in terms of protection against infiltration, in accordance with standard EN 60 529.
The sensor - central support combination is suitable for measuring the temperature in air conditioning ducts. The sensor-thermowell combination is suitable for temperature measurement in pipes.
The composition of the sensor material of temperature complies with the requirements of Decree 38/2001 Coll. as modified, and the design of the sensor also allows a easy cleaning. Thanks to these properties, it is possible to use the temperature sensors in the food industry. The sensors can be used for all control systems compatible with the ModBus RTU communication protocol.
ACCESSORIES
central metal support K120
JS 130 stainless steel thermowell

Input connector ElKA 4012

Connection cable with straight connector RKt or rectangular connector RKWt

Screw with collar or cutting rings - if different immersion lengths of the temperature sensor are set
DECLARATION, CERTIFICATION, CALIBRATION
EU declaration of conformity

- in accordance with law 22/1997 Coll.

on the technical requirements applicable to the products as amended.

Calibration

- The final metrological control - comparison with standards or working instruments - is carried out for all products.

The continuity of working standards and measuring instruments is ensured within the meaning of Article 5 of Law No. 505/1990 on metrology. We offer

the possibility to supply the calibrated sensors (according to the requirements of EN ISO / IEC 17025) or in an accredited laboratory.
Sensor type

SD 182K

Output signal
RS485 / MODBUS RTU
Sensitive element type

Point 1000/3850

Connection of the sensitive element type

2 fils

Internal wiring resistance

0,254 Ω / m at 20 ° C

Accuracy class B acc.

to standard EN 60 751

± (0,3 + 0,005 | t |) in ° C

Electronics accuracy
± 0.2 ° C

Measuring range




-50 ° C to 150 ° C

Recommended diet (SELV or PELV)

12 to 24 VAC nebo 10 to 24 VDC

Protection sign

IP67 according to

to standard EN 60 529

Connection head material

stainless steel DIN1.4301

Connection head dimension

length 78 mm / diameter 22 mm

Connector type

Lumberg M12

Rod material and connection head material

DIN 1.4301 stainless steel

Diameter of the stem
6 ± 0,1 mm
Standard length of rod L1
70, 120, 180, 240, 300, 360, 420 mm
Insulation resistance

> 200 MΩ at 500 V DC, 25 ° C ± 3 ° C

Electric force

500V / 50Hz according to

at EN 60 730-1

Resistance to external pressure

without 2,5 MPa thermowell / with 6,3 MPa thermowell

Weight

120 g for a length of 120 mm

Operation conditions:
Ambient temperature around the connector: -25 ° C to 80 ° C
Relative ambient humidity: 10 to 100%
Atmospheric pressure : 70 to 106 kPa

Maximum velocity of water/air flow or water vapor when measuring temperature in pipes:
Housing length in mm
Water / air flow velocity
without thermowell
Water / air flow velocity
with a thermowell
up to 60
2 / 20 m-1
3.5 / 35 m-1
> 70 to 120
1.5 / 15 m-1
3.0 / 30 m-1
> 120 to 180
1.0 / 8.0 m-1
2.0 / 15 m-1
> 180 to 240
0.6 / 2.5 m-1
1.2 / 5 m-1
> 240 to 420
0.3 / 0.6 m-1
0.8 / 1.6 m-1


These products can interest you