Fast response time probe - CAN protocol
In production :
3 to 5 weeks
Ce quick response temperature sensor with plastic head and digital output Digital CAN (CANopen) - SD 164 is designed for contact measurement of liquid or gaseous substances. The sensor tube design allows it to be used for direct temperature measurement in tubes or vessels, while ensuring rapid response to temperature changes. The temperature sensor is easy to mount thanks to the unique "S head" design
International shipping
FREE shipping in EU from 70 € HT purchase
Secure Payments
All payments are secure and approved.
Best price guarantee
Contact us to define your payment term.
+33-233-611-670
English - French - German - Spanish
The sensor consists of a plastic head and a metal tube in which a temperature sensor is placed. The metal tube has a screw connection with a standard G 1/2 "thread. In the head there is a terminal block or converter, to which the power cable for the sensor and the digital output signal is connected.
SD 164, SD 164K CANopen / CiA DS 301 communication protocol, CAN bus communication
The sensors are designed to operate in a chemically non-aggressive environment, the method of use must be chosen according to the temperature and the chemical resistance of the sensor head.
ACCESSORIES
Plug connector

CONEC 43-00092

connection cables with connector

RKT

, respectively.

rectangular

RKWT
Sensor type




(K - with connector)

SD 164
SD 164K

Output signal

CAN / CANOPen-CIA DS 301

Measuring range *)

-50 to 130 ° C

Precision electronics

± 0,2 ° C

Sensor type / accuracy

Pt 1000 / ± (0,3 ° C + 0,0005 | t |)

Supply voltage

15 to 30 V DC

Nominal supply voltage Un

24 V DC

Consumption / supply current

maximum: 500 mW, typical: 300 mW

Working conditions

ambient temperature: -30 to 100 ° C
relative humidity:
atmospheric pressure maximum of 100% : 70 to 107 kPa

Degree of protection

IP 65 according to EN 60529, as modified

Response time

τ

0,5

<4 s (in white water 0,2 ms

-1

)

Standard rod length

50, 100, 160, 220mm

Tube diameter

4 ± 0,1 mm

Tube material

DIN 1.4301 stainless steel

Standard thread type

G 1 / 2 "

Insulation resistance

> 200 MΩ at 500 V DC, 25 ° ± 3 ° C;

humidity <85%

Head dimensions

70 63 x x 34mm

Head material

POLYAMIDE

Head connector type




(for sensors with connector)

RSFM4-M12-Lumberg

Recommended conductor cross-section




(for sensors with cable gland)

0,14 to 1 mm

2

Weight

min 200 g
*) By increasing the length of the rod by 60 mm above the thread, the sensors can be used up to 200 ° C
MAXIMUM SPEED OF MEASURED MEANS FLOW - AIR AND STEAM / WATER [ms-1]
| | | |
| --- | --- | --- |
| Length of the stem | up to 60 mm | > 100 to 160 mm |
| Values ​​for rod diameter 4 mm | Zones | Zones |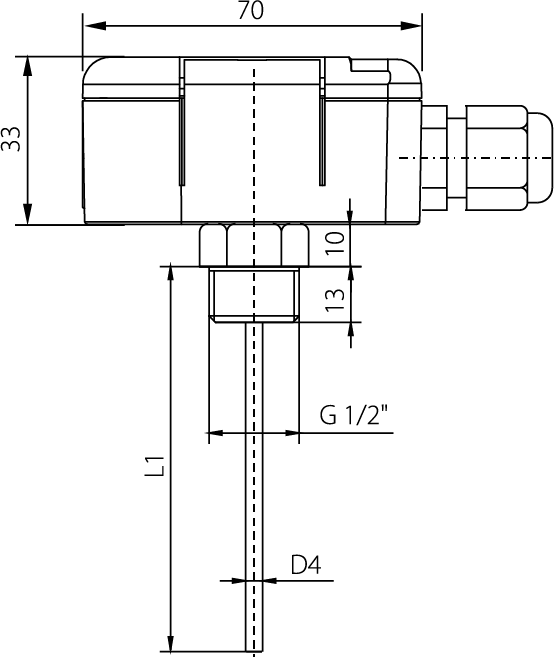 Information
Measured

Temperature

Communication

CAN
Related products
(8 other products in the same category)