Temperature sensor - Plastic connection head - DS18B20 *Step required
In production :
2 to 3 weeks
This SD 125 temperature sensor with a plastic rod and head with digital output is designed for measuring the contact temperature of liquid and gaseous substances. In combination with a central support, the sensor is suitable for measuring the temperature in air conditioning ducts. The combination of a sensor and a thermowell is suitable for direct measurement of the medium in pipes. The temperature sensor is easy to install thanks to the unique "S-head" design.
---
The sensors consist of a plastic head and a metal housing, where the detection element for temperature measurement (sensor) is placed. In the head there is a terminal block with a converter to which the sensor is connected via a cable gland or a connector.
---
SD 125 - DS 18B20 digital temperature sensor, communication via 1-Wire bus
The operating temperature range of the sensors is defined in the table of technical parameters of the different sensor versions. The sensors respond to IP 65 input protection according to EN 60529, as modified.
---
The sensors are designed to operate in a chemically non-aggressive environment, the use must be chosen according to the temperature and the chemical resistance of the sensor head.
International shipping
FREE shipping in Europe from 100 € of purchase
Secure Payments
All payments are secure and approved.
Best price guarantee
Contact us to define your payment term.
+33-233-611-670
English - French - German - Spanish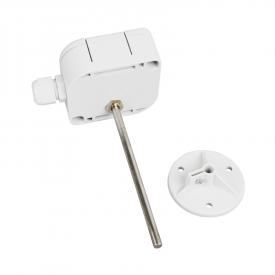 ACCESSORIES
CONEC 43-00092 input connector

connection cable with straight connector RKT or with rectangular connector RKWT

screw with collar or cutting rings - if different immersion lengths of the temperature sensor are set
DECLARATION, CERTIFICATION, CALIBRATION

The manufacturer provides

an EU declaration of conformity.
Calibration

- The final metrological control - comparison with standards or working instruments - is carried out for all products.

The continuity of standards and work measurement instruments is ensured within the meaning of article 5 of Law No. 505/1990 on metrology.

The manufacturer offers the possibility of supplying the calibrated sensors in the laboratory (according to the requirements of EN ISO / IEC 17025) or in an accredited laboratory.
| | |
| --- | --- |
| Sensor type | SD 125 |
| Output signal | 1 wire / DS18B20 |
| Measuring range | -40 to 125 ° C |
| Electronics accuracy | ± 0,2 ° C |
| Type / precision of the sensitive element | ± 0,5 ° C in the range of -10 to 80 ° C |
| | ± 2 ° C in the range of -30 to 100 ° C |
| Supply voltage (U) | 3 to 5,5 V DC |
| Nominal supply voltage (Un) | 5 V DC |
| Power consumption / current | 1 mA |
| Working conditions | ambient temperature: -30 to 100 ° C |
| | relative air humidity: max. 100% |
| | atmospheric pressure: 70 to 107 kPa |
| Protection against ingress | IP 65 according to EN 60529, as modified |
| Response time | τ0,5 <9 s (0,2 m / s-1 in running water) |
| Standard rod lengths | 70, 120, 180, 240 mm |
| Standard rod diameter | 6 ± 0,2 mm |
| Material of the stem | DIN 1.4301 stainless steel |
| Pressure resistance | PN 25 (without thermowell) / PN 63 (with thermowell) |
| (impact on the stem with the medium) | |
| Isolation resistance | > 200 MΩ at 500 V / DC, 25 ° C ± 3 ° C; humidity <85% |
| Connection head dimensions | 70x63x34mm |
| Connection head material | POLYAMIDE |
| Connector type in the head | RSFM4 - M12- Lumberg |
| (for sensors with a connector) | |
| Recommended cable section | 0,35 to 1,5 mm 2 |
| (for sensors with grommet) | |
| Weight | min. 120 g |
SENSOR INSTALLATION AND MAINTENANCE
WELL DETECTORS:
Before connecting the power cable, lift the cover of the plastic connection head using a flat screwdriver. The input cable is connected to the terminals according to the wiring diagram through the loose eyelet. The recommended wire section is 0,35 to 1,5 mm2. The diameter of the circular section cable can range from 4 to 8 mm. To ensure the IP 65 protection value, the grommet must be tight and the cover must be put on after connecting the input cable.

SENSORS WITH CONNECTOR:
The input cable with connector is connected to the RSFM4 connector, which is part of the sensor head. Optionally the CONEC 43-00092 standalone connector, or a 5 m long input cable fitted with a straight RKT connector, or a rectangular type RKWT connector can be delivered. To guarantee the IP 65 protection value, the connectors and the sensor cover must be tightened and checked. If the input cable is laid near high-voltage conductors or those supplying equipment which creates a disturbing electromagnetic field (for example, equipment with inductive load), a screened cable must be used. When using a stainless steel thermowell or stainless steel support, these
accessories should be placed first where the temperature will be measured. Then the sensor is inserted into the holder or pushed as far down the thermowell, and tightened with a screw. The openings for the installation of the plastic clamp must be drilled in accordance with the sketch dimensions on which the opening diameters and the distances from their centers are illustrated.
After installing and connecting the sensor to the sequential evaluation electrical equipment, the sensor is ready to use. The sensor requires no maintenance or special maintenance. The device can be used in any working position, but the eyelet must not point upwards.

MODIFICATION AND CUSTOMIZATION
FOR THE STANDARD DETECTORS MANUFACTURED, THE FOLLOWING PARAMETERS CAN BE MODIFIED:
- possibility of coating two sensitive elements
- Accuracy class A (with the exception of Ni 10000/5000, Ni 10000/6180, T1 = Ni 2226, NTC resistance 20 kΩ)
- three or four wire connection option
- Variable rod - Length L1, materials, diameters, possibility of threading
- thermowell thread type options
- possibility of providing custom temperature ranges for temperature sensors with converter
Information
Measured

Temperature

Product Type

DS18B20

Protection sign

IP65

Maximum operating temperature

125°C

Diameter

6 mm

tube length

70 mm
120 mm
180 mm
240 mm
300 mm
360 mm
400 mm
Related products
(8 other products in the same category)