TP 11E Resistance Paired Probe *Step required
In production :
3 to 5 weeks
These paired temperature sensors are used as components of energy meters. They are manufactured with the Pt 100, Pt 500 and Pt 1000 temperature sensing elements. The sensors are compatible with energy meters manufactured by SIEMENS, LANDIS + GYR, KAMSTRUP, ITRON, CODEA, COMAC CAl, SENSUS METERING, etc. The sensors are intended for installation in heat sinks. The standard operating temperature range is 0 ° C to 180 ° C or 0 ° C to 150 ° C.
Secure Payments
All payments are secure and approved.
Best price guarantee
Contact us to define your payment term.
+33-233-611-670
English - French - German - Spanish
International shipping
FREE delivery in EU from 70 € HT purchase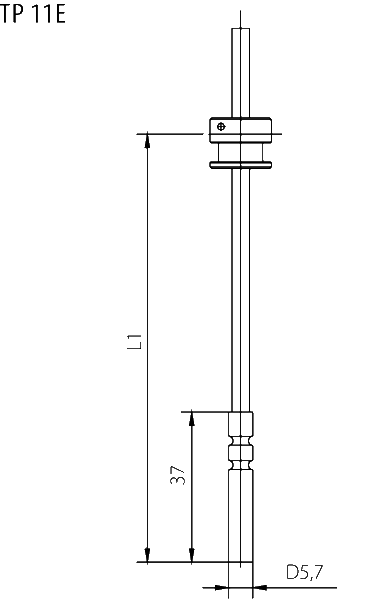 BASIC DATA

Sensitive element type

100 pt, 500 pt, 1000 pt

Maximum continuous current

3 mA (Pt 100);

1,5 mA (Pt 500);

1 mA (Pt 1000)

Recommended measurement current

1 mA (Pt 100);

0,5 mA (Pt 500);

0,6 mA (Pt 1000)

Measuring range

0 to 180 ° C

Delta mini

2 or 3 ° C

Delta max.
180 ° C
Accuracy class of individual sensors
Class B according to EN 60 751
Sensor connection

according to the wiring diagram
OTHER

SETTINGS
Tube length

40 ± 5 mm (37 mm as standard)

Tube diameter
5.5 ± 0.5 mm
Housing and thermowell material

DIN 1.4571 stainless steel

Input cable

2 x 2mm unshielded 0,5-wire silicone

2

Silicone




4 unshielded wires 4 x 0,25 mm

2

Cable lengths

according to EN 1434-2, art.

3.3.4, Chart 2

Wire resistance

0,07 for 1 m of 2-wire cable

Cable temperature resistance

-25 to 180 ° C

Protection sign

IP 67 in accordance with EN 60 529

Insulation resistance

100 MΩ at 100 V DC, 15 to 35 ° C, 80% relative humidity

Response time

t 0,5 6 s (in white water at 0,4 ms -1 )

Recommended minimum immersion
75 mm
Lengths of thermowells
36, 86, 136, 176 mm
Thermal thread

G 1/2 ", M 20 x 1,5

Maximum overpressure for a thermowell

6,3 MPa
Information
Measured

Temperature

Product Type

Wired probes