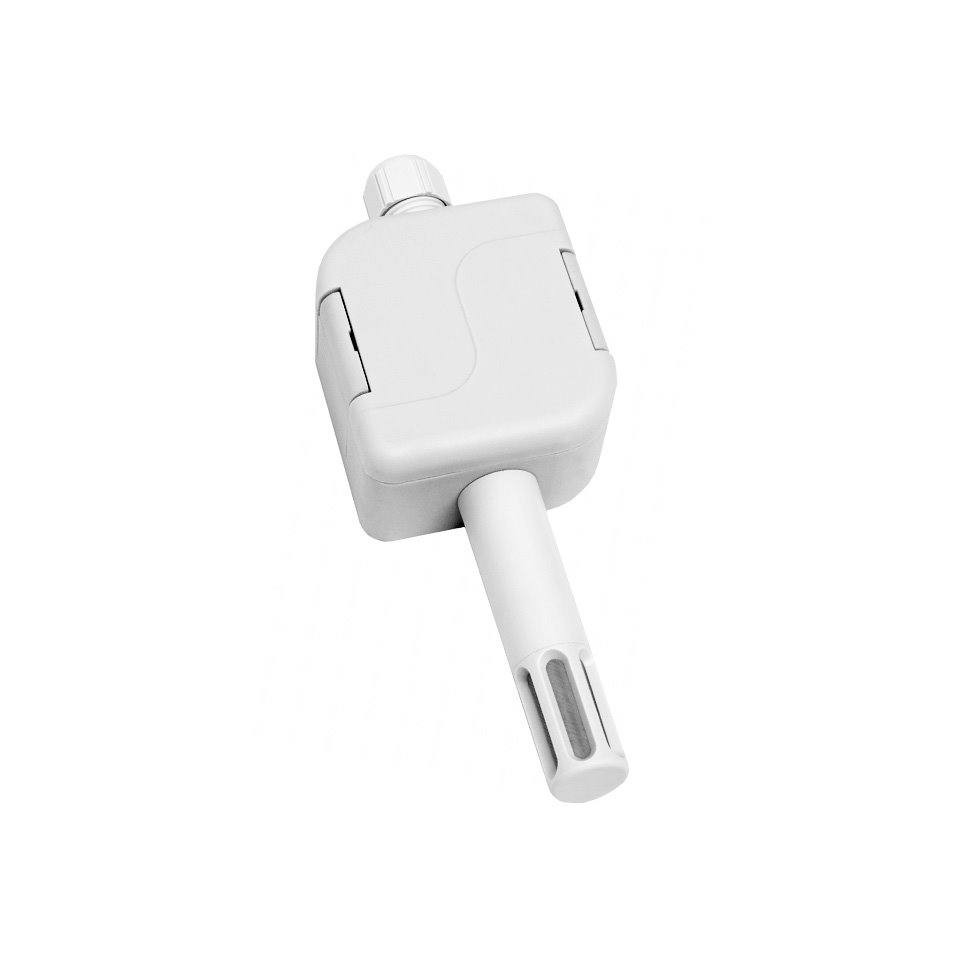 Temperature and Humidity Probe - 4..20mA
Reference GPTSV110R
Product features Temperature and Humidity Probe - 4..20mA
The digital microprocessor design ensures long-term stability of parameters, temperature compensation of the humidity sensor and signaling of fault conditions. State-of-the-art polymer humidity sensor ensures long-term data stability and resistance to water condensate.
The output signals of the measured quantities are two galvanically isolated 4 to 20 mA current signals, set by the manufacturer as follows:
Output 1: relative humidity, range 4 to 20 mA corresponds to 0 to 100% RH
Output 2: temperature, range 4 to 20 mA corresponds to -30 ° C to 80 ° C
Sensor type

PTSV 110

Sensor type

Point 1000/3850

Output signal

two signals galvanically isolated from 4 to 20 mA

Output signals in case of error

<3,8 mA or> 24 mA

Supply voltage (Unap)

9 to 30 V DC, maximum ripple 0,5%

Temperature measurement range *

-30 to 80 ° C

Precision

± 0,4 ° C between 0 and 100 ° C, otherwise 0,4% of the measured value

Relative humidity measurement range **

0 to 100% RH (temperature compensated over the entire temperature range)

Precision

± 2,5% RH in the range of 5 to 95% RH at 23 ° C

Degree of protection

electronic IP 65 according to EN 60 529;

the sensors are located behind the cover with protection class IP 40 according to EN 60 529

Dust filter

0,025 mm filtration capacity

Operating temperature range

-30 to 80 ° C

Operating humidity range

0 to 100% RH

Working position

arbitrarily

Electromagnetic compatibility

conforms to standard EN 61326-1

Storage conditions

temperature -30 to 80 ° C, relative humidity 0 to 100% RH non-condensing

The weight

about 150 g

Head material




POLYAMIDE
* The maximum temperature is valid only for sensors with temperatures above + 85 ° C, the relative humidity in continuous operation should not exceed the allowable limit, according to the graph of the limits of the temperature measuring range and the 'humidity.
** Each output of the dual output sensors can receive any value - temperature, relative humidity, dew point temperature, absolute humidity, specific humidity, mixing ratio or specific enthalpy.
The same quantity can be assigned to both outputs.
The outputs are factory set to the maximum range.
The output range can be selected by the user from a PC using the SP 003 cable, available as an optional accessory.
Other output settings (RV, T, Trb, ...) and their ranges than the standard according to the table are possible - it is necessary to specify in the order.