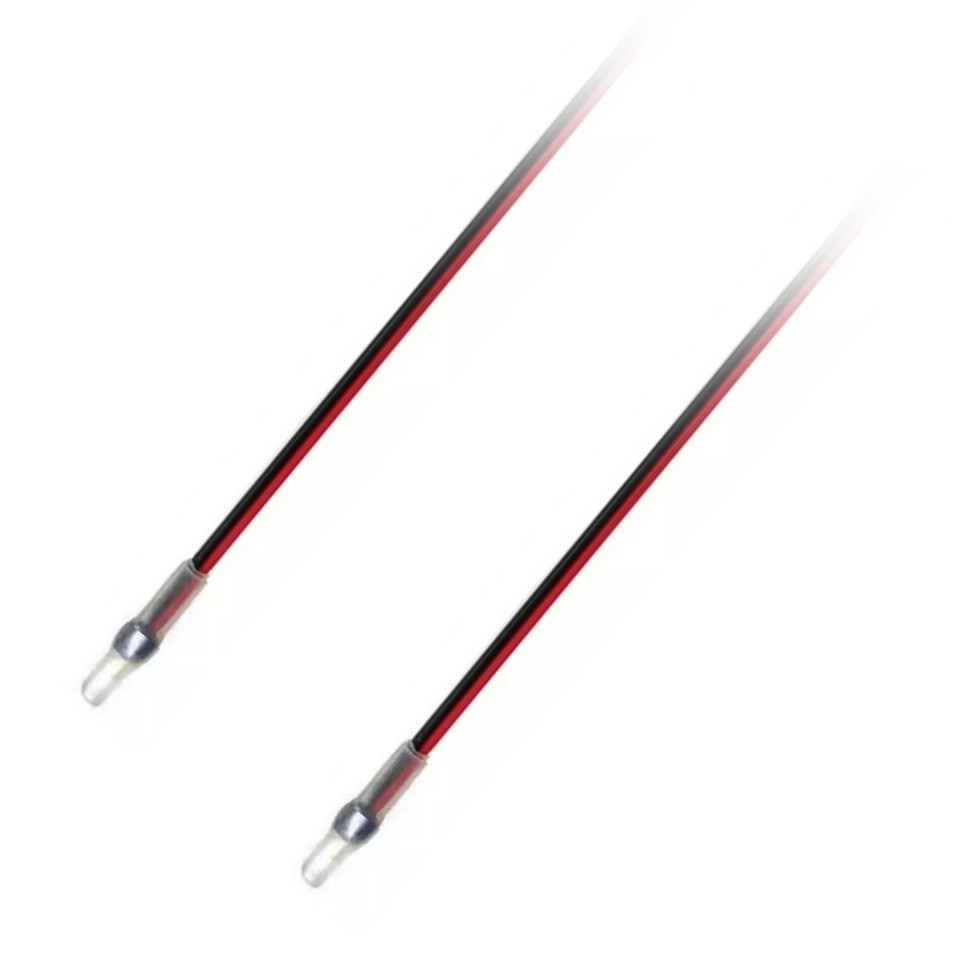 Product features Double PTC probe
Applications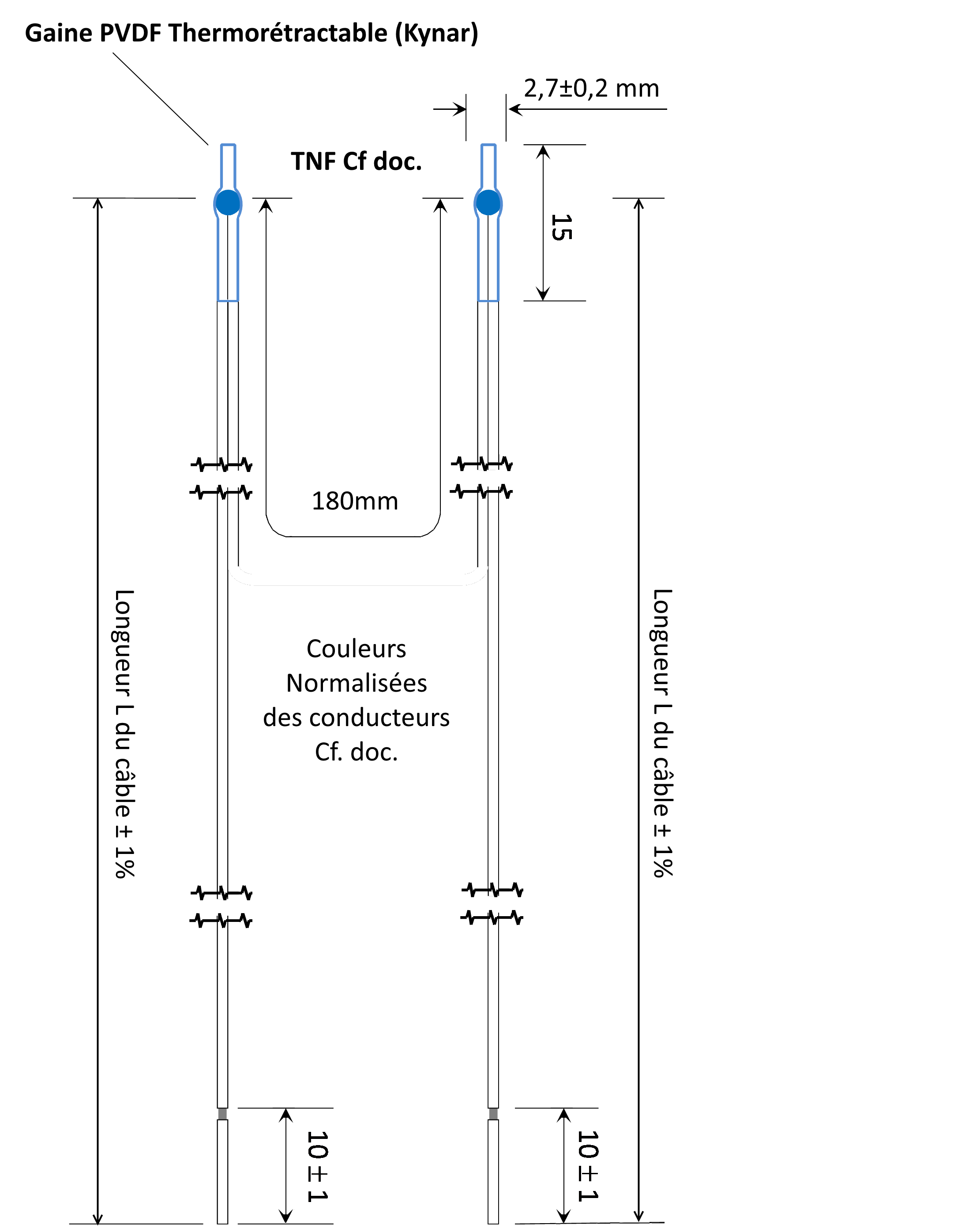 PTC (Positive Temperature Coefficient) thermistors are resistors made from semiconductor materials (ceramic), the resistance value of which increases considerably when the temperature rises. These probes will mainly be used in the electronics and electrical engineering sector. For example, for overload protection of windings of electric motors, of transformer windings, for temperature monitoring of power semiconductors, of bearings of all rotating machines, etc., thanks to the precision of the threshold of operation, with small dimensions, low thermal inertia and low cost, the PTC probe is a particularly attractive product.
Quality of our products
The PTC thermistors are manufactured according to DIN VDE standards V098-1-401 (old standards DIN 44081 + DIN 44082). We can quickly deliver special fabrications according to your specifications. As far as our products are concerned, we refer to the standards in force, and because of this, we reserve the right to modify them, according to the new standards, as well as the technological advances.
Mechanical and electrical characteristics
Type: KZ235
Probe diameter Ø: 2 to 2.5mm
Heat shrink: Kynar15mm
Cable: Silver copper stranded
Insulation in Teflon PTFE / PFA (AWG26, 24, 20) According to manufacturer's choice
Standard length L of the cable:
Double probe: 500/180/500 ± 10mm
Color code: Standard colors according to DIN VDE V098-1-401 (old standards DIN 44081+ DIN 44082).
Driver tips:
Sheath pre-cut on ~ 10mm, cleared ready for stripping (prevents dispersion of the strand).
Operating voltage: U = 600VAC
Résistance des conducteurs: à 20°C, AWG26=133 Ohms/Km, AWG24=82,7 Ohms/Km
Operating temperature: -40 to + 200 ° C
Max operating voltage: Umax = 30V
Measuring voltage: Umax = 2,5V
Dielectric strength: U <2.5KV
Nominal Operating Temperatures Ttnf: de +60°C à +180°C par fractions de 10K (ainsi que +145°C et +155°C)
Tolerance of Ttnf at:
Delta Ttnf, from + 60 ° C to + 160 ° C: ± 5K
from + 170 ° C to + 180 ° C: ± 6K
Thermal constant ta: <5 sec.
TaB trigger: <3 sec.


Mounting and positioning of probes
It is preferable to implant the probes before the impregnation of the coils. For three-phase electric motors each winding is equipped with a probe (single speed = 3 CTP, 2 speeds = 6 CTP). The probes are connected in series, the two connecting wires are to be connected to 2 free terminals in the terminal box. The CTPs are positioned at the hottest point of the windings. In the case of electric motors, this point is almost always opposite the fan. It is essential for the probes to have good thermal contact with the winding. In the case of electric motors it is necessary to provide a space in the middle of the winding head, allowing the housing of the probe, the conductors of the probe must be positioned parallel to the winding son, they must have the most contact intimate possible with the probe. In order to achieve this result, you must then strongly squeeze the wire around the bandage probe. Coils composed of larger wires are less suitable for the shape of the probes, in this case it is recommended to lightly coat the probes of resin filled with quartz powder having a good thermal conductivity, it is important to avoid air inclusions. If the engine manufacturer uses impregnation products that are not chemically neutral, or uses a special impregnation method, which may impair the insulation of the probe, it is understood that he will have to test his achievements.


CTP for measurement
Temperature sensors with CTP probes are also very effective for limit temperature monitoring in measurement, control and regulation techniques. Apart from the standard executions to be integrated, screw probes, surface probes (with standard conductor lengths: 500 ± 10 mm). We can also produce products specific to your needs.
KZ235 Double CTP Probe
These products can interest you