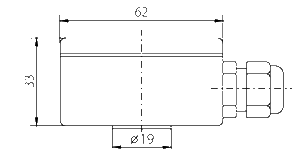 Description and application
Magnetic temperature sensors are designed to measure the contact temperature of ferromagnetic materials. The contact with the measuring surface is ensured by a spring of the measuring surface.
The plastic connection head is equipped with a cable outlet (the terminal block is placed in the connection head) or a connector. The standard operating temperature range is between -30 and 100 ° C.
Sensors can be used for any compatible control system with the sensing element output signals or the output signals shown in the sensing element type table.
ACCESSORIES For the version with connector:
CONEC 43-00092 input connector

Connection cable with straight type RKT connector or with rectangular type RKWT connector
DECLARATION, CERTIFICATION, CALIBRATION
The manufacturer provides

an EU declaration of conformity.
Calibration

- The final metrological control - comparison with standards or working instruments - is carried out for all products.

The continuity of working standards and measuring instruments is ensured within the meaning of Article 5 of Law No. 505/1990 on metrology. We offer

the possibility to supply the calibrated sensors (according to the requirements of EN ISO / IEC 17025) or in an accredited laboratory.
Cable sensors with magnetic fixing are a possible alternative to the S 190 sensor range.