Contact probe with display *Step required
The
fast response resistance temperature sensors with display
are designed for the measurement of the contact surface temperature.
The temperature sensing element is located in a metal rod with a length of 50 to 220 mm.
The plastic head of the temperature sensor with display is equipped with a grommet or connector;
the measured temperature is indicated on the 4 digit display located under the transparent cap of the head.
The temperature sensors with display can be used for all control systems compatible with the output signals listed in the technical parameters table.
Secure Payments
All payments are secure and approved.
Best price guarantee
Contact us to define your payment term.
+33-233-611-670
English - French - German - Spanish
International shipping
EXPRESS OR STANDARD delivery.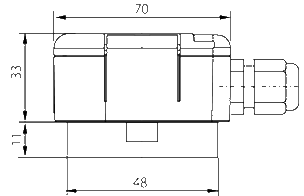 The maximum temperature range for setting the current loop of the temperature sensors with display is -50 to 150 ° C. Within this range, the required operating temperature ranges can be programmed, while the minimum difference between the lower and upper limits of the temperature range is 10 ° C. The measurement temperature range with the temperature sensor with display is between -30 and 110 ° C and, simultaneously, the maximum temperature around the head is between -30 and 70 ° C and must not be exceeded, even for a short time. The temperature sensors with display comply with the 65 IP penetration protection according to EN 60529. The temperature sensors with display are easy to install thanks to the unique design of the head S ".
The sensors are designed to operate in a chemically non-aggressive environment, the use must be chosen according to the temperature resistance of the head and the metal housings.
ACCESSORIES
for the sensor with connector: connector

entry CONEC 43-00092

Connection cable with

connector

RKT from

straight type

or with

connector

RKWT of

type

rectangular

heat conducting paste up to 200 ° C, 5 g
DECLARATION, CERTIFICATION, CALIBRATION
The manufacturer provides

an EU declaration of conformity.
Calibration

- The final metrological control - comparison with standards or working instruments - is carried out for all products.

The continuity of working standards and measuring instruments is ensured within the meaning of Article 5 of Law No. 505/1990 on metrology. We offer

the possibility to supply the calibrated sensors (according to the requirements of EN ISO / IEC 17025) or in an accredited laboratory.
Sensor type




(K - with a connector)

NSD 540




NSD 540K

NSD 740




NSD 740K

Output signal




4 to 20 mA

0 to 10 V

Sensitive element type

Pt 1000 / 3850, accuracy class B (± 0,3 + 0,005 x | t |) in ° C

Measuring range

Adjustable size

Maximum temperature range

- 50 to 150 ° C

Measurement error




0,8% of the range, at least 0,5 ° C

Display screen

4 digits, LED, character size 7,62 × 4,22 mm

Power supply (U)

15 to 30 V DC

Nominal voltage Un

24 v

Resistance to load Rz




Rz max 250 Ω

Rz min 10 kΩ

Current / voltage when the sensor is interrupted
> 24 mA

> 12 V

Current / voltage when the sensor is




shorted

<3 mA

~ 0 V

Material of the head



POLYAMIDE
Size of the head

70 x 63 x 34 mm

Wire section

0,35 to 1,5 mm

2

Protection sign


IP 65 according to EN 60529

Connection cable

through the M 16 × 1,5 cable gland / through the LUMBERG M12 connector

Ambient temperature around the head

-30 to 70 ° C

Electric force

500 V / 50 Hz according to EN 60730-1
Other parameters

Case material




brass

Protective case material



POLYAMIDE
Isolation resistance

> 200 MOhm at 500 V DC, 25 ° C ± 3 ° C, relative humidity <85%

Maximum measuring range

-30 to 110 ° C
Information
Measured

Temperature

Product Type

Head / terminal probes

Communication

0 ... 10V
4 ... 20mA
Related products
(8 other products in the same category)