Ethernet gateway 4 *Step required
Ethernet gateways allow your wireless sensors to communicate with the online wireless sensor monitoring and notification system without the need for a PC. Simply provide power and plug the gateway into an open Ethernet network port with an Internet connection. It will then automatically connect to our online servers, providing the ideal solution for commercial sites with an active internet connection.
The Power over Ethernet option includes modified gateway hardware that allows it to be powered through the Ethernet port. Does not include POE power injector.
Secure Payments
All payments are secure and approved.
Best price guarantee
Contact us to define your payment term.
+33-233-611-670
English - French - German - Spanish
International shipping
EXPRESS OR STANDARD delivery.
* If you plan to use an alternative interface to sensors other than (Modbus TCP, SNMP, direct transmission of data from the gateway to the local server or to a third-party server, the purchase of an unlock code will allow free roaming of computers). hardware data.
What's in the box?

Ethernet cable

Ethernet Gateway

Ethernet Gateway Quick Start Guide

Power source

RP SMA antenna
Ethernet Gateway Specifications

Ethernet types

MNG2-x-EGW-CCE

Material

10/100 Ethernet controller

Compliance with IEEE standards

802.3 - 2002

Operation

Full and Half-Duplex

Cross correction

Automatic MDI / MDI-X

Protocols supported

DHCP, DNS, NTP, UDP, TCP, SNMP, TCP Modbus

Cable connector

RJ45

Input current (no loading)

5,0 VDC @ 1A

LED lights

Connectivity, server, network status

Device memory

Up to 50 sensor messages;

varies depending on the type of sensor.

(Sensor messages will be stored in the event of an internet failure and transferred once the connection is reestablished)

Commercial Gateway Specifications

Housing material

ABS

LED lights

Internet connectivity status, Server status, Sensor network status

Storage temperature:

-20 to + 60 ° C (-4 to 140 ° F)

Operating temperature

+5 to + 45 ° C (41 to 113 ° F)

Device memory

15 sensor messages (sensor messages will be stored in the event of an Internet outage and forwarded when the connection is restored)

868 MHz specifications

Frequency of operation

Operating frequency 868 MHz

Certifications

CE certified.

Tested and found to comply: EN 300 220-2 V3.1.1 (2017-02), EN 300 220-2 V3.1.1 (2017-02) and EN 60950.

Safe

Encrypt-RF® (Diffie-Hellman + AES-128 CBC key exchange)

Range of devices

Range of the device Wireless range up to 1 feet *
Suggested applications for this sensor
Transmits sensor data to the online sensor monitoring portal

Commercial surveillance applications

Monitoring of installations

Small business monitoring

Supervision of large companies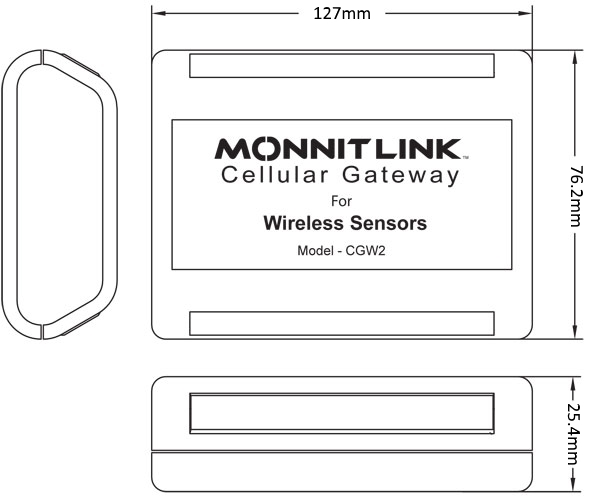 Information
Measured

Temperature

Product Type

Passerelle
Related products
(8 other products in the same category)