Industrial wireless water temperature sensor
International shipping
FREE shipping in Europe from 100 € of purchase
Secure Payments
All payments are secure and approved.
Best price guarantee
Contact us to define your payment term.
+33-233-611-670
English - French - German - Spanish
Product Description:
The wireless water temperature sensor uses a 900mm waterproof probe to measure the temperature in water or non-combustible liquids. Perfect for monitoring temperatures in water storage tanks, swimming pools, aquariums and natural environments. User personalization allows you to set the reading frequency and conditions for e-mail or sms notifications.
Main "Internet of Things" solutions for companies
The sensors offer a range of standard sensors with a range of up to over 350m through walls (12 to 14 walls generally). The use of Frequency Spread Spectrum (FHSS) also allows the sensors to have better immunity to interference from other wireless devices.
Superior power management provides the sensors with almost twice the battery life of standard wireless sensors.
Button cell sensors typically last over 3 years.
AA and industrial sensors generally last up to 12 years.
The products use the new Encrypt-RF® Security system (256-bit Diffie Hellman key exchange and AES-128 CBC encryption for all sensor data messages). Security is therefore maintained at all communication points, gateway sensor, software gateway.
Built-in data storage allows sensors to store data if communication with a wireless gateway is interrupted (power outage, Internet connection cut or out of range). Messages that cannot be delivered will be time stamped and stored in memory (up to the last 512 messages) until communication with the gateway is reestablished, in which case all messages will be transmitted.
Over-the-air updates allow products to be updated remotely if new patches or new features are available.
The industrial sensors are delivered in an IP65, NEMA 4X, CE certified, waterproof and weatherproof enclosure. They are powered by a single 3,6 V industrial quality, replaceable battery (included).
An optional version powered by solar energy is also available. The solar powered version includes a rechargeable Lithium Iron Phosphate battery combined with a solar cell to keep the battery charged and at its optimal capacity. If there is no light at the level of the solar cell, the battery alone can continue to supply the sensor for 8 to 10 years.


Product Features
Accurate to +/- 1 ° C (1.8 ° F).

Probe temperature range: -40 ° C to + 100 ° C (-40 ° to 212 ° F).

Waterproof probe, external temperature probe
* The actual range may vary depending on the environment.
** Battery life is determined by the frequency of sensor reporting and other variables.
What does the data from this wireless sensor look like in the software?




* also available in ° C
What's in the box?
Wireless sensor

Mounting hardware

3V industrial battery (pre-installed)

SMA antenna
Thermistor specifications

Accuracy at 25 ° C

+/- 1%

Time constant at 25 ° C

30 sec max

Weight

85g

Length of the probe

900 mm

Probe operating temperature range

-40 To 100 ° C

Industrial specifications

Supply voltage

2,0 - 3,8 VDC

Battery Type

3.6V replaceable, 1800mAH (single size AA)

Battery life

Battery life up to 10 years. **

Maximum operating temperature

-40 ° to 85 ° C (-40 ° to 185 ° F)

Optimal battery operating temperature

+ 10 ° C to + 50 ° C (+ 50 ° F to + 122 ° F)

Solar power option

3.0 VDC solar panel




600 mAH rechargeable battery (> 2000 charge cycles - 80% of initial capacity)




Charging temperature range: 0 ° to 45 ° C (32 ° to 113 ° F)




Max temperature range: -20 ° to 60 ° C (-4 ° to 140 ° F)

Housing material

IP65, NEMA 4X, CE approved housing, weather resistant and CE approved

UL classification

UL listed according to UL508-4x specifications (file E194432)

868 MHz specifications

Frequency of operation

Operating frequency 868 MHz

Certifications

CE certified.

Tested and found to comply: EN 300 220-2 V3.1.1 (2017-02), EN 300 220-2 V3.1.1 (2017-02) and EN 60950.

Safety

Encrypt-RF® (Diffie-Hellman + AES-128 CBC key exchange)

Range of devices

Device range Wireless range up to 350m (12 to 14 partitions)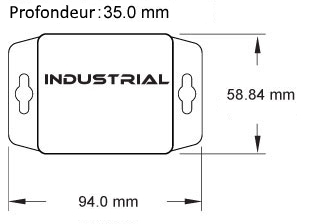 Suggested applications for this sensor
Water tank temperature monitoring

Temperature monitoring of storage tanks for non-combustible liquids

Temperature monitoring of the liquid manufacturing process

Swimming pool temperature monitoring

Aquarium temperature monitoring

Environmental temperature monitoring in wetlands
Information
Measured

Temperature

Product Type

Wireless probe

Communication

Wireless RADIO

Autonomy + IP

10 years + IP65