Frying Oil Tester and Thermometer
In production :
1 to 3 weeks
Determines the quality of the frying oil.
Ensure that the oil is changed at the right time.
LED traffic light indicator.
Displays temperatures and% RPM.
Secure Payments
All payments are secure and approved.
Best price guarantee
Contact us to define your payment term.
+33-233-611-670
English - French - German - Spanish
International shipping
EXPRESS OR STANDARD delivery.
The frying oil tester is a measuring instrument that allows you to determine the quality of different types of frying oils.


Lightweight and easy to use, the frying oil tester can simultaneously display frying oil temperature and% TPM value.


The value% TPM (total polar materials) allows the user to judge the aging and quality of the cooking oil, which deteriorates over time under the effect of heating.


The measuring tip of the probe is placed directly into the hot frying oil and in less than 30 seconds, the user can establish the temperature and quality of the oil.


The% TPM value is a measure of the heat-oxidative stress level of a frying oil.


The frying oil tester incorporates a easy-to-read LED traffic light function, which lets you know if the oil should or should be changed soon.


By only changing the oil when necessary, you can save time and money, as well as reduce waste.


Suitable for measuring olive oil, palm oil, rapeseed oil, peanut oil, soybean oil, sesame oil, vegetable oils and animal fats.


OPERATION


The digital frying oil tester and thermometer test total polar materials (TPM) for frying oils.


TPM measures the amount of polar materials in the oil.


A molecule is polar because the negatively charged electrons that rotate are not evenly distributed (odd number), whereas a nonpolar molecule has evenly distributed electrons (even number).


For exemple, water is a very polar material et oil is non-polar, which means that the water would separate from the oil as shown in the image below (imagine magnets):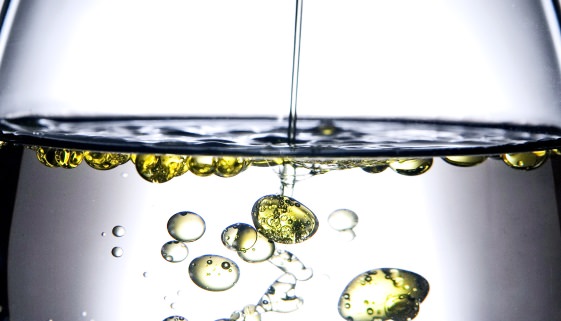 TPM polar materials


Triglycerides are also detected using TPM.


Those are compounds combined with 1 molecule of glycerol and 3 fatty acids, they are therefore molecules larger than the singular fatty acids that the test strips detect.


The digital tester measures the number of these "bigger" polar molecules that appear in the oil and provide a percentage of RPM (% RPM) on the LCD screen.


24% TPM is considered to be the percentage at which the frying oil is no longer suitable for human consumption.


This is done via a dielectric constant measurement between 2 capacitance plates.


range: 0 to 40% TPM and 30 to 200 ° C
Resolution: 0,5% TPM and 0,1 ° C
Accuracy: ± 3% RPM and ± 1,5 ° C
Drums : 2 x 1,5 volts AAA
Battery life: 25 hours of continuous use
Type of sensor: capacitance
Display: Custom LCD
dimensions: 31 x 48 x 365 mm
Weight: 250 grams
Information
Maximum operating temperature

200°C

Probe type

Diver
Related products
(8 other products in the same category)