Bulb capillary thermostat - Adjustable - Small footprint - Type RPT *Step required
This product is designed for installation in small and narrow places and all structural and electrical specifications are the same as TS series. This model is for mass production, unlike TS series which can be produced in small quantities.
Secure Payments
All payments are secure and approved.
Best price guarantee
Contact us to define your payment term.
+33-233-611-670
English - French - German - Spanish
International shipping
EXPRESS OR STANDARD delivery.
| | |
| --- | --- |
| Temperature range: MIN 0 ° C ~ MAX + 320 ° C | Weight: 72g |
| Maximum temperature of the thermostat body: + 120 ° C | Capillary: Stainless steel, standard length 1000mm (optional from 250 to 2000mm) |
| Breaking capacity: 20A / 250VAC | Type of adjustment knob: B, R |
| Thermostat body mounting: M4 (28mm gap) | Capillary fixing: 1/4 ", M12, M14 |
Model

Temperature range

Bulb size

Precision

Hysteresis

Capillary length

Type of wheel

Fixing fitting

RPT 050S
0 ° C ~ + 50 ° C
Ø5.8 * 127mm
± 2 ° C
2 ± 1 ° C
Standard 1000 mm (250 ~ 2000 mm optional)

Type R.

1/4 "standard PT (optional)

RPT 090S
0 ° C ~ 90 ° C
Ø5.8 * 123mm
± 3 ° C
3 ± 1 ° C
RPT 120S
0 ° C ~ 120 ° C
Ø5 * 106mm
± 3 ° C
3 ± 1.5 ° C
RPT 200S
50 ° C ~ 200 ° C
Ø5 * 89mm
± 8 ° C
6 ± 3 ° C

Type B

M12 / M14 optional (optional)

RPT 320S


50 ° C ~ 320 ° C
Ø3 * 144mm
± 11 ° C
7 ± 4 ° C
Ø5 * 60mm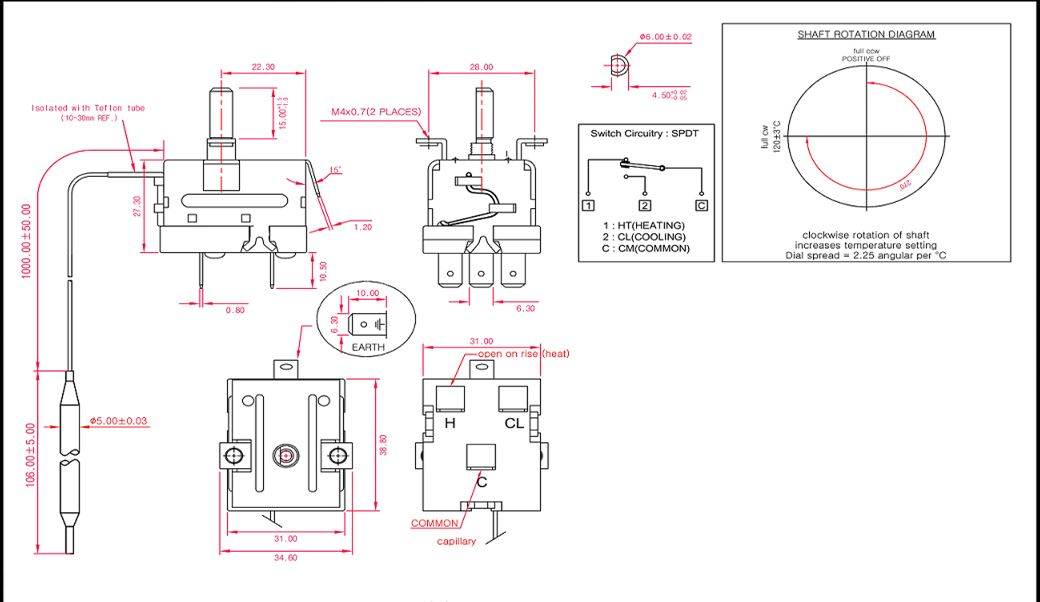 Information
Measured

Temperature

Product Type

Bulb thermostats

Thermostat type

Capillary