Bimetal probe wired with tube and stainless steel fitting diameter 10mm
Delivery in 3 to 5 weeks
TSB 060 series bimetal temperature sensors are designed as two-state controllers (ON / OFF control) that compare the preset and instantaneous temperature and immediately disconnect the contact when a set temperature is reached. The required temperature is defined according to customer needs by selecting a bimetallic thermal break and can not be changed.
Secure Payments
All payments are secure and approved.
Best price guarantee
Contact us to define your payment term.
+33-233-611-670
English - French - German - Spanish
International shipping
EXPRESS OR STANDARD delivery.
Switches bimetallic TSB 060 series consist of a stainless steel housing containing a bimetallic switch (thermal break) and a power cable.
Bimetallic switches of the TSB 060 series are used to signal temperature overshoot in various industrial applications, for example to protect transformers, power semiconductor stages, motors and high power batteries. The bimetallic switches of the TSB 060 series are designed to work in chemically non-aggressive environments.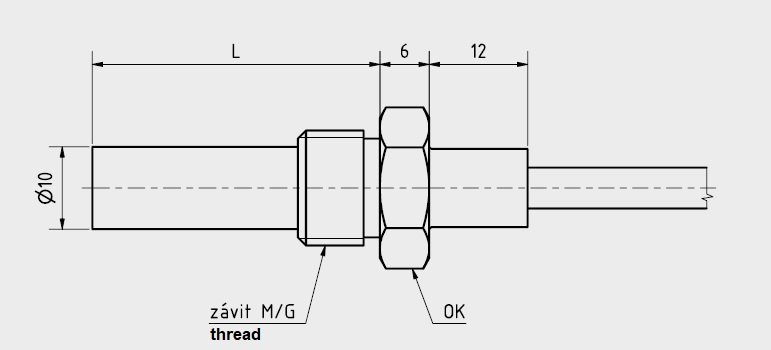 Type of switch

TSB 060

Temperature sensor

TMC bimetallic - C1B

Temperature range




(selection of the trigger temperature)

70 to 180 ° C

Switching tolerance
± 5 ° C
Contact design

normally closed (instant action)

Maximum voltage / switching current

10.000 cycles 250VCA / 2,5A




3.000 cycles 250VCA / 6,3A

Housing

DIN 1.4301 stainless steel

Case diameter
10 mm
Case length

35 mm with thread

Thread type / OK



M14 x 1.25 / OK17
Working range

-25 to 180 ° C

Ingress protection

IP 67 according to EN 60529

Isolation resistance




in a normal environment

min.

20 MΩ

Dielectric strength of the insulation

2 kVAC / 1 min.

Contact connection

2 fils

Power cable

shielded silicon 2 x 0,34 mm

2

Weight

min.

0,2 kg acc.

design
Information
Product Type

Thermostat

Thermostat type

Cable
Related products
(1 other product in the same category)