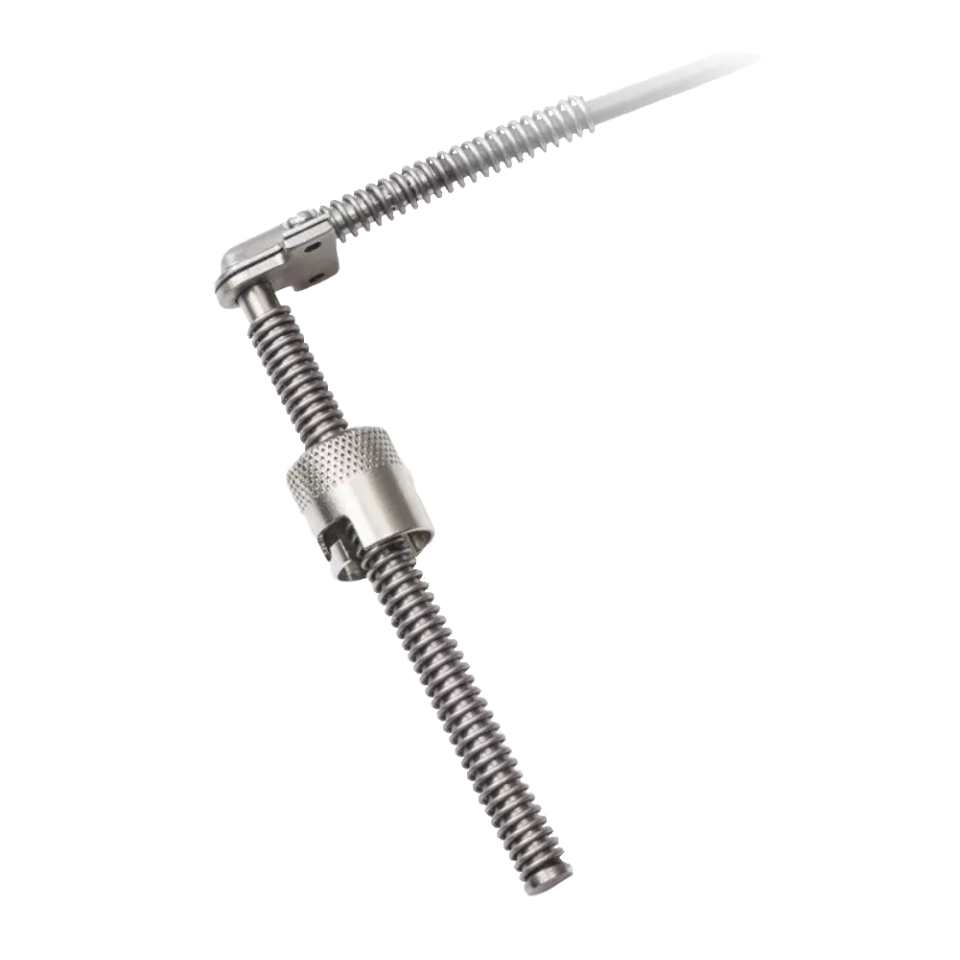 Bayonet probe, 6 or 8mm, -50 to 350 ° C
Reference G05.05
Product features Bayonet probe, 6 or 8mm, -50 to 350 ° C
All of this resistance temperature sensors at right angles with a bayonet G05.05 are designed to measure the temperature of solid substances, but they can also be used to measure the temperature of liquid and gaseous substances. Due to the design of the temperature sensor, the cable exits at a right angle to part of the sensor measurement.
To fix the temperature sensor to a point to be measured, the bayonet head screwed onto a spring is used. La combination of bayonet nut, spring and bayonet adapter corresponding can provide higher pressure from the temperature sensor at right angles to the bayonet in the measured point.
The maximum operating temperature range of the right angle temperature sensor is between -50 and 350°C (400°C for a short time). The range of each variant is reduced with one type of temperature sensing element and the power cable. Temperature sensors meet protection standards IP50 to IP67 according to EN 60529, depending on the input cable variant.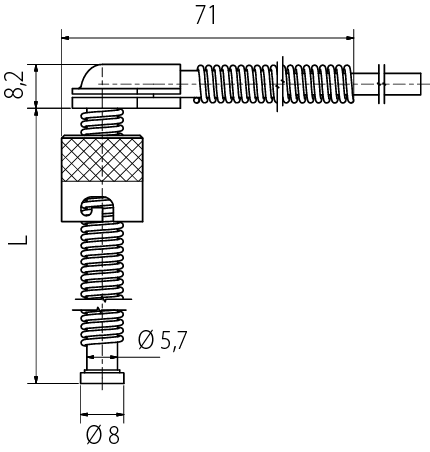 Sensor type

G05.05

Sensitive element

all types




(Pt 100, Pt 1000, Ni 1000, Ni 10000, Ni 2226 = T1, NTC, PTC, KTY,




TSiC, DALLAS, thermocouple K, thermocouple J, thermocouple T and so on)

Housing

DIN 1.4301 stainless steel

Case diameter

6 mm or 8 mm

Diameter if case in contact

8 mm or 10 mm

Case length L




60 to 200 mm

Material of the rectangular part

stainless steel

End of the case

straight, hemisphere R6 or vertex 120 °

Input cable variations / temperature range
(may be limited by the type of sensitive element
- to be determined in the documentation)

Shielded PVC -30 to 80 ° C




Unshielded PVC -40 to 105 ° C




silicone -50 to 200 ° C




armored teflon -50 to 250 ° C




with fiberglass 0 to 400 ° C (with metallic braid)

Protection sign

IP 50 to IP 67 according to EN 60529 - depending on the type of cable

Material / Size of bayonet head

⌀ 6 mm: nickel-plated brass / L = 16 mm, interior 12,8 mm




8 mm: nickel-plated brass / L = 18 mm, interior 15 mm

Spring material / dimension

Ø 6 mm: stainless steel DIN 1.4301 / L = 200 mm, outside 8 mm, ⌀ of wire 1 mm




8 mm: stainless steel DIN 1.4301 / L = 200 mm, outside 10 mm, wire 1 mm

Insulation resistance (between housing and sensor)

> 200 MΩ at 500 VDC, 25 ± 3 ° C

Maximum permissible static traction on the input cable
1 kg
These products can interest you