Sensitive probes in plastic and rubber manufacturing process applications
Unvulcanized rubber and a mixture of this material behave like a viscoelastic liquid during processing. A variety of additives, chemicals and fillers are added to rubber during the mixing process. This process creates an unvulcanized rubber compound. The dispersion depends mainly on the temperatures. This is why Guilcor offers temperature probes suitable for the manufacture of rubber and plastic materials.
Mixing is carried out on various devices:
Proper mixing of the components in the mixture,
Shortest mixing time,
Accurate temperature sensing while mixing.
These different processes are very important requirements for a quality rubber compound for production.
GUILCOR measurement probes are one of those difficult applications. Our sensors for rubber and plastic allow us to adapt to the requirements of individual devices from different manufacturers.
These measuring devices have been developed since 2007, the year the TR153-Pt100 probe was designed.
The TR 153 temperature sensors meet the mechanical criteria, as well as the accuracy and measurement rate criteria.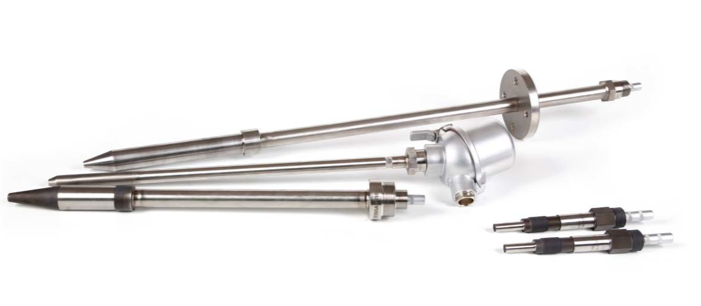 Conflicting requirements for temperature sensors
For the design of rubber and plastic, our measuring instruments must meet the requirements below:
short response time;
high resistance to mechanical stress;
Excellent resistance to the influence of abrasion of rubber-plastic mixtures;
high resistance to vibrations and shocks.
Common characteristics of temperature sensors
To meet the above requirements, our temperature probes for plastic and rubber have the following specifications:
measuring range -30 to 200 ° C
housing material: stainless steel, stainless steel hardenable at the measuring point
Pt 100/3850 type sensor, 4 wires
the temperature sensor is available in two versions:
- version A - the sensor is fitted with a LEMO connector and can be completed with a metal connection head.
- version B - the sensor is fitted with a ceramic terminal block placed in the connection head.
response time - indicative
- According to EN 60 751: τ0,9 ≤ 10s
- Continental method: τ0,9 ≤ 70s
From 0 ° C (drift ice) to 180 ° C (flowing silicon oil 0,4 ms-1)