Portable dual-channel recording thermometer Ni1000 / Pt1000
Reference: AR005308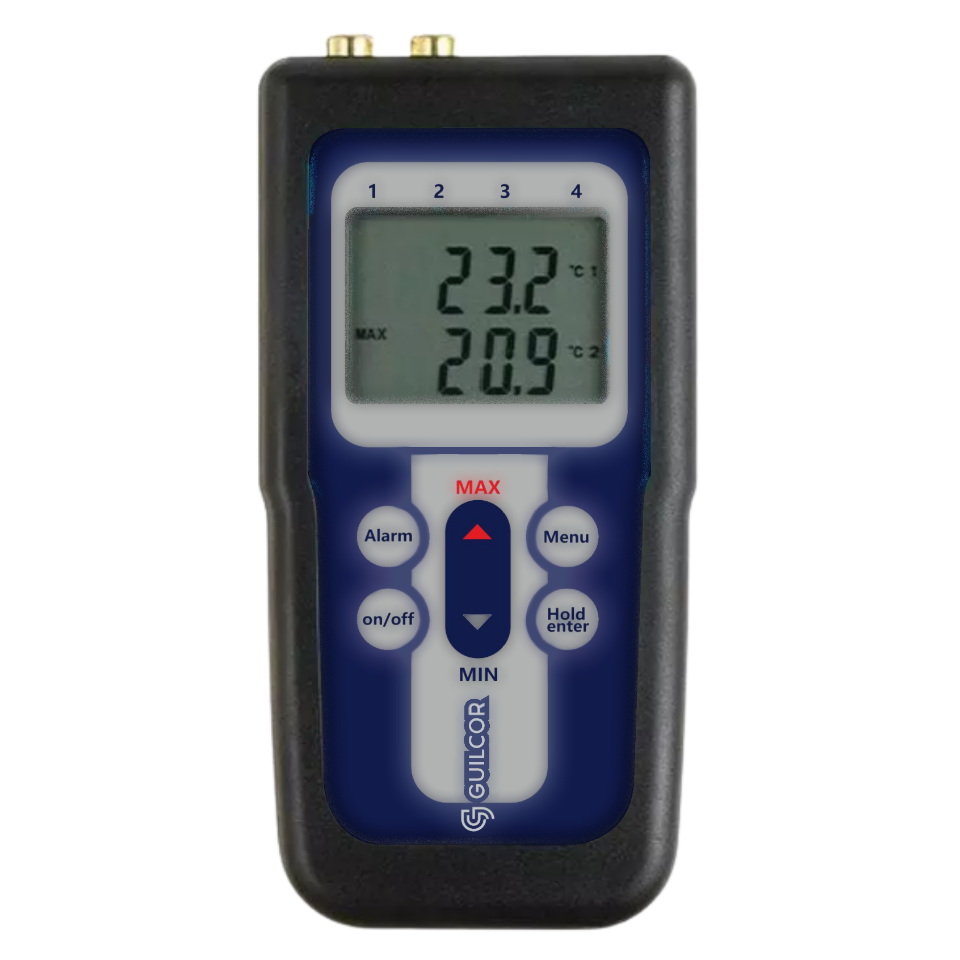 International shipping
Standard or express delivery
Secure Payments
All payments are secure and approved.
Best price guarantee
Contact us to define your payment method.
+33-233-611-670
English - French - German - Spanish
Product details about "Ni1000 / Pt1000 Dual Channel Handheld Recording Thermometer"
TECHNICAL DATA


The thermometer is designed for direct measurement and recording temperature data in the non-volatile internal memory.


The free PC program allows to transfer the recorded data to the personal computer for further evaluation.


LCD backlight.


The instrument is connected to PC via included USB cable only for data transfer from memory.


While connecting with the PC, no measurement and recording is activated.


INCLUDED IN DELIVERY
AR005308
Manual
Traceable calibration certificate
9V battery
Mini USB cable
Plastic transport case
Self-adhesive dual lock for easy installation
FREE Analysis Software



MEASURED VALUES
- Temperature
Operating temperature range: -30 to + 65 ° C
Temperature input: RTD Pt1000-3850ppm; -200 to + 500 ° C
RTD Ni1000 / 6180ppm; From -50 to + 250 ° C
Accuracy of the Pt1000 input without external probe: ± 0,3 ° C from -50 to + 100 ° C
± 0,3% of reading from +100 to 500 ° C
± 0,6% of reading from -200 to -50 ° C
Accuracy of Ni1000 input without external probe: ± 0,2 ° C from -50 to + 100 ° C
± 0,2% between +100 and + 250 ° C
Supply : 9V batteries
Battery life: 6 months on average
Real time clock: year, leap year, month, day, hour, minute, second
PC interface: USB
Sampling interval in data logging mode: 10 to 24 hours (18 adjustable intervals)
Total memory capacity: up to 16 recorded values
Data logging modes: non-cyclic - data recording stops after filling the cyclic memory - after filling the memory, the oldest data is overwritten by the new ones
Dimensions: 141 x 71 x 27 mm
Protection: IP20
Weight with battery: approximately 150 g
Warranty: 3 years
General
Reference

AR005308

Name

Portable dual-channel recording thermometer Ni1000 / Pt1000
Features
Measured

Temperature

Type

Portable

Product Type

Data loggers
8 other products in the same category: