ST01U4 -Bilame coated with epoxy resin
In production :
1 to 3 weeks
Bimetal sensor / probe covered with epoxy resin for insertion into the windings of rotating machines and transformers. Customized application in single, double, triple etc ...
International shipping
FREE shipping in Europe from 100 € of purchase
Secure Payments
All payments are secure and approved.
Best price guarantee
Contact us to define your payment term.
+33-233-611-670
English - French - German - Spanish
Bimetallic design: PT0 / PTF
Insertion area: Sensor for insertion into the windings of rotating machines and transformers.
Compact and pressure-stable: Ideal for installation in a limited space, very suitable for mounting on and on windings.
Reliability and durability: constant contact pressure over the entire temperature range; Very fast switching, therefore low arc influence on the contacts.
Sensitivity to temperature: reproducible Switching temperature induced by a non-resistive and electrically discharged mechanical bimetallic disc.
Speed: Excellent thermal coupling induced by a compact switchgear.
Flexibility: Wide assortment of wires available for connection.
Air Vacuum Test Procedure - The bimetallic strips are placed in a sealed chamber. - The chamber pressure is reduced to 30 mbar. At this pressure and at a temperature between 18 and 25 ° C the bimetallic strips are immersed in a impregnating resin. Bimetallates are placed under these conditions during dry 60. - The pressure is then normally stabilized at 1 Bar. - 120 sec. later bimetallic strips are removed from the impregnating resin. After which the bimetallic strips will remain for 2 hours in an oven at a temperature of 120 ° C in order to harden the impregnating resin.

The resin used is of the type 4VEZS9EF1q produced by the company DURESCO GmbH.

Technical data :
Max operating voltage: 500VAC 60VDC
Normal Operating Voltage / Intensity: 250VAC 6A
Number of cycles to 250VAC / 3.0A COS FI 1.0 = 10000
Number of cycles to 250VAC / 6.0A COS FI 1.0 = 3000
Number of cycles to 250VAC / 1.0A COS FI 0.45 = 10000
Contact resistance: <50mOhm
Dielectric resistance: 2.5KV
XLPE AWG22 300V cable if T ° <150 ° C
Teflon cable FEP AWG24 600V T °> 150 ° C
Teflon cable PFA AWG22 600V on request, resistant to 250 ° C
Standard cable lengths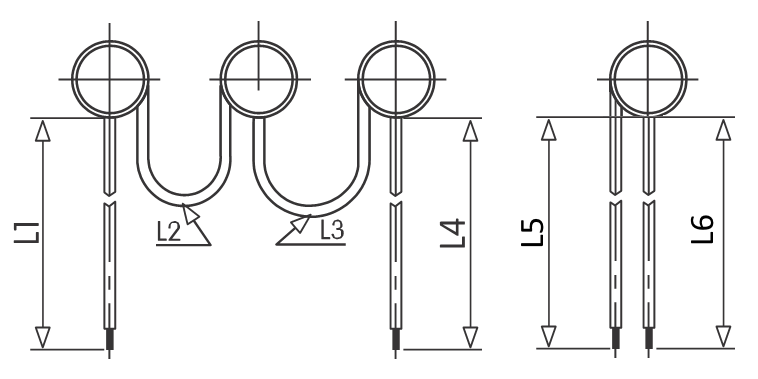 L1 L4 = = 520 +/- 10mm
L2 L3 = = 200 +/- 5mm
L5 L6 = = 55 +/- 5mm
Information
Thermostat type

Miniature
Related products
(8 other products in the same category)