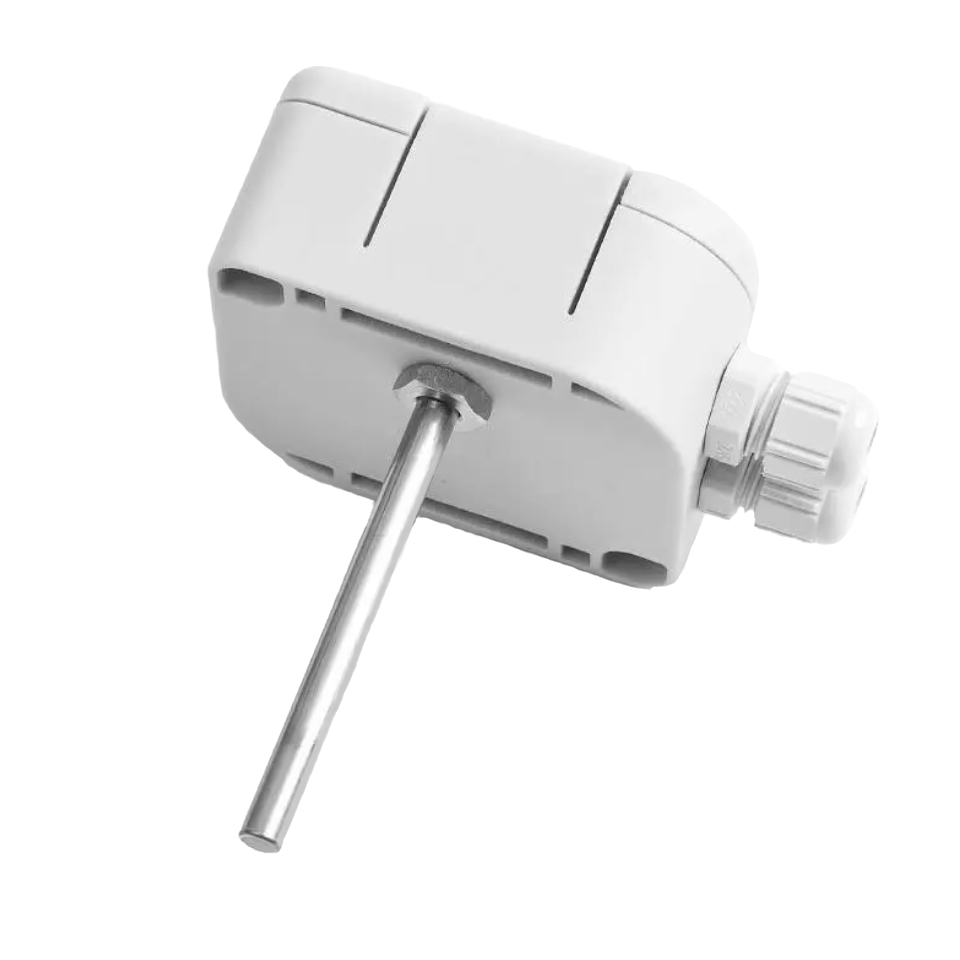 Probe with plastic connection head - CAN protocol
Product features Probe with plastic connection head - CAN protocol
DESCRIPTION AND APPLICATION
This sensor includes plastic head and stainless steel tube in which a temperature sensor is placed. In the head is a terminal block or a converter with a terminal block, to which the power cable intended to supply the sensor and to the digital output signal are connected via a cable gland and a connector.
SD124, SD124K protocol CANopen / CiA DS 301 communication, bus communication CAN
The temperature range of the sensors is defined in the table of technical parameters for each variant. The sensors are conform to protection class IP 65 Complies with modified EN 60529.
The sensors are designed to operate in a chemically non-aggressive environment, the method of use should be selected according to the temperature and chemical resistance of the sensor head.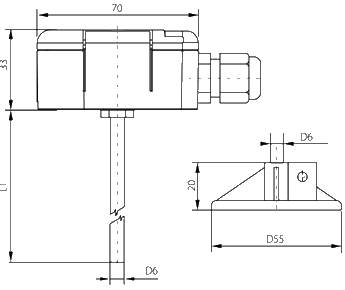 ACCESSORIES
central plastic support
stainless steel thermowell JS 130
central metal support

screw with collar or cutting rings - if different immersion lengths of the temperature sensor are set
DECLARATION, CERTIFICATION, CALIBRATION
The manufacturer provides

an EU declaration of conformity.
Calibration

- The final metrological control - comparison with standards or working instruments - is carried out for all products.

The continuity of standards and work measurement instruments is ensured within the meaning of article 5 of Law No. 505/1990 on metrology.


The manufacturer offers the possibility of supplying the calibrated sensors.
Sensor type
(K - with connector)

SD 124
SD 124K

Output signal

CAN / CANOPen-CIA DS 301

Measuring range

-50 to 150 ° C

Electronic precision *)

± 0,2 ° C

Sensor type / accuracy

Pt 100 / ± (0,3 ° C + 0,0005 | t |)

Supply voltage

15 to 30 V DC

Nominal supply voltage Un

24 V DC

Consumption / supply current

maximum: 500 mW, Standard: 300 mW

Working conditions

ambient temperature: -30 to 70 ° C
relative humidity:
atmospheric pressure maximum of 100% : 70 to 107 kPa

Degree of protection

IP 65 according to EN 60529, as modi

trusted

Response time

τ

0,5

<9 s (in white water 0,2 ms

-1

)

Standard rod length

70, 120, 180, 240mm

Standard rod diameter

6 ± 0,2 mm

Measuring rod material

DIN 1.4301 stainless steel

Pressure resistance

without PN 25 good




with PN 63 good

Insulation resistance

> 200 MOhm at 500 V DC, 25 ° C ± 3 ° C;

humidity <85%

Head dimensions

70 63 x x 34mm

Head material

POLYAMIDE

Connector type

RSFM4-M12-Lumberg

Recommended conductor cross-section

0,14 to 1 mm

2

Weight

min 200g
These products can interest you