Outdoor plastic housing probe - MODBUS RS485
Description and application
The SD 112 temperature sensor is an intelligent, microprocessor-controlled temperature sensor. SD 112 outdoor sensors are intended for temperature measurement in industrial areas or outdoors. The standard temperature range of use of the sensor is between -30 and 70 ° C. The sensor communicates via the RS 485 bus and only the bus can control the sensors. The communication inputs are protected against overvoltages. If the module is placed as a terminal on the line, a terminating resistor can be attached to the wiring by shorting the contacts (the switch SW placed next to the terminals for connection of communication lines). All settings are stored in EEPROM memory. The electronic module is equipped with the WATCHDOG circuit, which guarantees the correct functioning of the program in the microprocessor. Head "S".
The sensor is designed to be used in a chemically non-aggressive environment.
International shipping
FREE shipping in Europe from 100 € of purchase
Secure Payments
All payments are secure and approved.
Best price guarantee
Contact us to define your payment term.
+33-233-611-670
English - French - German - Spanish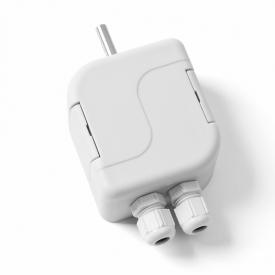 DECLARATION, CERTIFICATION, CALIBRATION
The manufacturer provides

an EU declaration of conformity.
Calibration

- The final metrological control - comparison with standards or working instruments - is carried out for all products.

The continuity of standards and work measurement instruments is ensured within the meaning of article 5 of Law No. 505/1990 on metrology.

The manufacturer offers the possibility of supplying the calibrated sensors in the laboratoryλ (according to the requirements of standard EN ISO / IEC 17025) or in an accredited laboratory.

Note: manufacturer reserves the right to modify the design and technical characteristics of the products.


SENSOR INSTALLATION AND MAINTENANCE
Before connecting the power cable, lift the cover of the plastic connection head using a flat screwdriver. The input cable is connected to the terminals according to the wiring diagram through the loose eyelet. The recommended wire section is 0,35 to 1,5 mm2, the diameter of the circular section cable can range from 4 to 8 mm. To ensure the protection value IP 65, the grommet must be
tight and the cover must be put on after connecting the input cable. If the input cable is laid near high-voltage conductors or those supplying equipment which creates a disturbing electromagnetic field (for example, equipment with inductive load), a screened cable must be used. After installation and connection of the sensor to the sequential electrical evaluation system equipment that the sensor is ready to use. The sensor does not require any particular maintenance. The device can be used in any working environment position, but the eyelet must not be directed upwards.
Information
Measured

Temperature

Product Type

RS485

Protection sign

IP65

Maximum operating temperature

70°C

Model

Exterior
Terminal block probe

Cable length

With terminal block
Related products
(8 other products in the same category)