Connection head resistance thermometer with reduction - ATEX explosion-proof
Reference: GXD-TOPSWR / GXD-APTOPSWR
International shipping
Standard or express delivery
Secure Payments
All payments are secure and approved.
Best price guarantee
Contact us to define your payment method.
+33-233-611-670
English - French - German - Spanish
Product details about "Connection Head Resistance Thermometer with Reduction - ATEX Explosion Proof"
Features
Single and dual RTD
Interchangeable mineral insulated measuring insert
Machined solid glove well (drilled) suitable for high pressures
Thermowell diameters: Ø18h7, Ø24h7
Thermowell material: 1.7335 steel or other
ATEX cable gland I M2, II GD, IP65 (cable diameter Ø5..10mm)
Output signal: RTD or 4..20 mA (option)



Assembly instructions
Signed sensors ex.jpg II 1/2G IIC T6 ÷ T5 Ga/Gb et ex.jpg II 1/2D Ex ta/tb IIIC TX Da/Db have been designed for temperature measurement in all gas, liquid, mist and dust explosion zones. In zone 0 or 20 can only be a protection tube. The connection head can only be in zones 1 (21) or 2 (22). The boundary between the zones is the threaded connection.
Signed sensors ex.jpg II 2G IIC Tx Gb et ex.jpg II 2D Ex tb IIIC TX Db have been designed for temperature measurement in zones 1 (21) and 2 (22).


Description
The sensor consists of an interchangeable measuring insert, a drilled thermowell, a neck and an aluminum connection head where the mounting of a temperature transmitter with a 4-20 mA output signal / HART® or Profibus®PA is possible.
The measuring insert is the replaceable part of the complete sensor which reduces the time and cost of maintaining the measuring device installed in the object. The spring-loaded attachment of the measuring insert provides perfect pressure at the bottom of the protection tube, reduces reaction time to temperature changes and increases measurement accuracy and reduces natural vibrations, thus avoiding mechanical and electrical faults .
The length and design of the thermowell, the connection head as well as the type and number of sensors, the accuracy and the connection method can be individually selected for the respective application.


Temperature transmitter (option)
The transmitter is mounted inside the sensor connection head, directly on the measuring insert.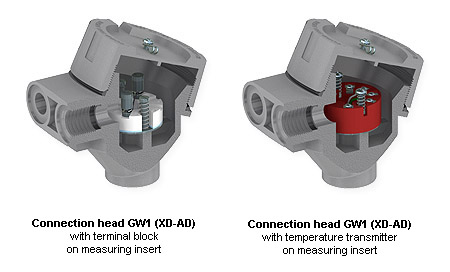 | | | |
| --- | --- | --- |
| | Type GW1 | aluminum, M20x1,5 cable gland |
| | Type GW2 | aluminum, 2 x cable gland M20x1,5 |
| | Type GW3 | aluminum, M20x1,5 cable gland, with window for local LED display (LPI-02) |
| | Type GW4 | aluminum, 2 x cable gland M20x1,5, with window for local LED display (LPI-02) |
| | Type S1 | stainless steel, M20x1,5 cable gland |
| | Type S2 | stainless steel, 2 x cable gland M20x1,5 |
General
Reference

GXD-TOPSWR / GXD-APTOPSWR

Name

Connection head resistance thermometer with reduction - ATEX explosion-proof
Features
Product Type

2x Pt100
Pt100

Number of threads

2
3
4

Maximum operating temperature

550°C

Precision

Class A + -0.15 ° C
Class B + -0.3 ° C

Diameter

18 hours
24 hours

Model

Terminal block probe

Type of outputs

4.20mA

Certification

ATEX EXD

Cable length

With terminal block
8 other products in the same category: