Probe with connection head - IP68 - Max 600 ° C *Step required
In production :
2 to 3 weeks
Description and application
These resistance sensors are designed to measure contact temperatures ranging up to 600 ° C. Temperature sensors, associated with a central support or a thermowell, can be used to measure temperature in various applications in an industrial environment. The sensor variant with welded thread is ideal for direct measurement of fluids in conduits. The sensors meet protection level IP 68 in accordance with standard EN 60529 . The standard operating temperature range is between -50 and 600 ° C. The sensors can be used for any control system compatible with the output signals from the sensing elements or the output signals shown in the table of sensing element types.
The sensors are designed to operate in a chemically non-aggressive environment.
International shipping
FREE shipping in Europe from 100 € of purchase
Secure Payments
All payments are secure and approved.
Best price guarantee
Contact us to define your payment term.
+33-233-611-670
English - French - German - Spanish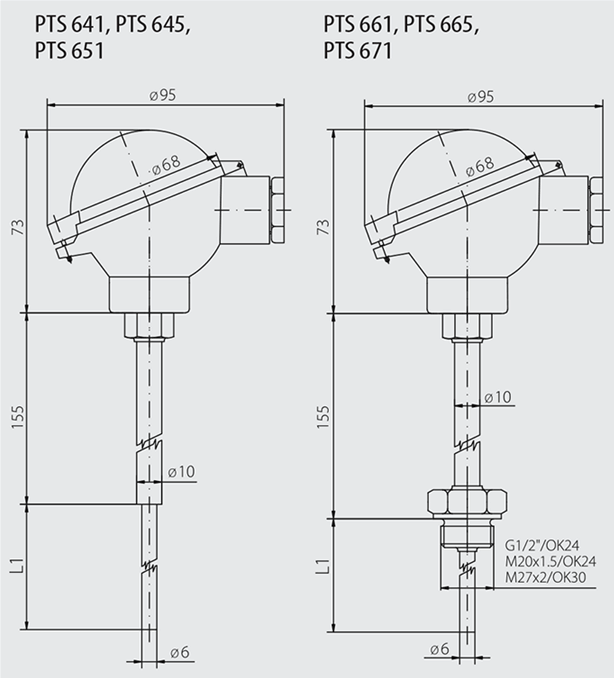 ACCESSORIES

central metal support K 120
JPTS 41 stainless steel thermowell

screw with collar or cutting rings - if different immersion lengths of the temperature sensor are set
DECLARATION, CERTIFICATION, CALIBRATION
The manufacturer provides

an EU declaration of conformity.
Calibration

- Final metrological control
Information
Measured

Temperature

Product Type

DS18B20
Pt100
Pt500
Pt1000

Communication

4 ... 20mA
DS18B20 digital

Protection sign

IP68

Maximum operating temperature

600°C

Diameter

6 mm

Connection type

G1 / 2 "
M20 x 1.5
M27 x 2

tube length

50 mm
100 mm
160 mm
220 mm
300 mm
400 mm
Related products
(8 other products in the same category)