Probe with connector, connection G1 / 2 ", 6mm, -50 to 150 ° C
In production :
1 to 3 weeks
These resistance temperature sensors TR 021 with connector are designed to measure the temperature of gaseous or liquid substances. The temperature range is from -50 to 150 ° C and these limits should not be exceeded, even for a short time. The temperature sensors with connector consist of a metal case in which the temperature detection element is placed and a DIN 43650 connector, which is an integral part of the case.
Secure Payments
All payments are secure and approved.
Best price guarantee
Contact us to define your payment term.
+33-233-611-670
English - French - German - Spanish
International shipping
FREE delivery in EU from 70 € HT purchase
The temperature sensors with connector meet the IP 67 ingress protection according to EN 60529 and are designed for measuring the temperature in pipes. Their design allows for a faster response to temperature changes compared to thermowell sensors.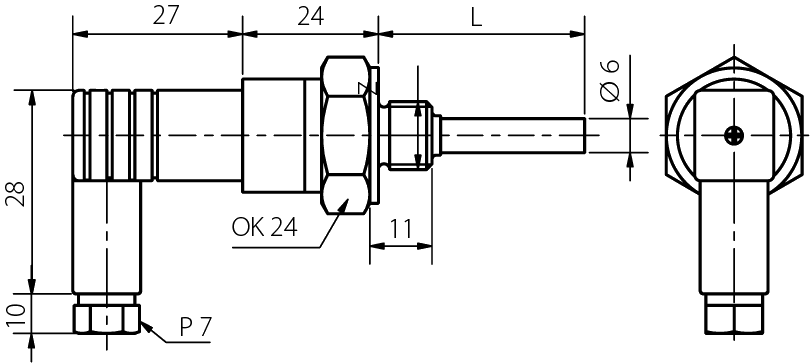 Sensor type

TR 021
Measuring range

-50 to 150 ° C (may be limited by the type of sensor, determine in the documentation)

Sensitive element type

all types

Ingress protection

IP67 according to EN 60529

File

G ½;

M 20 x 1,5;

M 27 x 2 others according to customer

Housing




DIN 1.4301 stainless steel

Case diameter
6.0 ± 0.1 mm
Case length (L)

20 to 500 mm

connector



Hirschmann GDM / GPS (DIN 43650)

Ambient temperature around the connector




-25 to 80 ° C

Wire resistance




0,254 Ω / 1 m at a temperature of 25 ° C for a 2-wire connection

Response time

τ

0,5

τ

0,9

<9 s (in white water 0,4 ms

-1

)
Related products
(8 other products in the same category)