Contact temperature probe - Digital DS18B20
In production :
3 to 5 weeks
This contact temperature sensor with 1-Wire / DS18B20 SD 145 digital output is intended for contact surface temperature measurement. The sensors are supplied with an attachment strap and are suitable for measuring the temperature in pipelines. The sensitive element itself is isolated from the environment. Temperature sensors are easy to install thanks to the unique "S-head" design
---
The sensors consist of a plastic head and a metal measuring box placed in a protective plastic cover made of POLYAMIDE where the detection element (sensor) for measuring the temperature is placed. In the head, there is a terminal block with a converter.
---
SD 145 - DS18B20 digital temperature sensor, communication via 1-Wire bus
---
The operating temperature range of the sensors is defined in the table of technical parameters of the different sensor versions. The sensors respond to IP 65 input protection according to EN 60529, as modified. To ensure high accuracy of the measurements, it is recommended to clean the contact surface with a file and use a heat-conducting paste between the measured surface and the metal housing of the sensor.
---
The sensors are designed to operate in a chemically non-aggressive environment, the use must be chosen according to the temperature and the chemical resistance of the sensor head.
International shipping
FREE shipping in EU from 70 € HT purchase
Secure Payments
All payments are secure and approved.
Best price guarantee
Contact us to define your payment term.
+33-233-611-670
English - French - German - Spanish
ACCESSORIES
Plug connector

CONEC 43-00092

connection cables with connector

RKT

, respectively.

rectangular

RKWT

Pete

thermally conductive

up to 200 ° C, 5 g
| | |
| --- | --- |
| Sensor type | SD 145 |
| Output signal | 1 wire / DS18B20 |
| Measuring range | -30 to 110 ° C |
| Electronics accuracy | ± 0,2 ° C |
| Type / accuracy of the sensitive element *), **) | ± 0,5 ° C in the range of -10 to 80 ° C |
| | ± 2 ° C in the range of -30 to 100 ° C |
| Supply voltage (U) | 3 to 5,5 V DC |
| Nominal supply voltage (Un) | 5 V DC |
| Power consumption / current | 1 mA |
| Working conditions | ambient temperature: -30 to 100 ° C |
| | relative air humidity: max. 100% |
| | atmospheric pressure: 70 to 107 kPa |
| Protection against ingress | IP 65 according to EN 60529, as modified |
| Response time | τ0,5 <13 s (on a smooth surface without paste) |
| Housing | brass |
| Isolation resistance | > 200 MΩ at 500 V / DC, 25 ° C ± 3 ° C; humidity <85% |
| Protective housing material | POLYAMIDE |
| Connection head dimensions | 70x63x34mm |
| Connection head material | POLYAMIDE |
| Minimum pipe diameter | 20 mm |
| Length of fastening strap | 40 cm |
| Material of fastening strap / cap | stainless steel / galvanized steel |
| Connector type in the head | RSFM4 - M12- Lumberg |
| (for sensors with a connector) | |
| Recommended cable section | 0,35 to 1,5 mm2 |
| (for sensors with grommet) | |
| Weight | min. 140 g |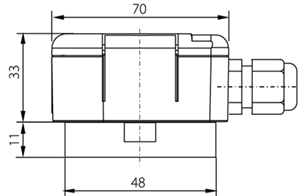 Information
Measured

Temperature

Product Type

Head / terminal probes

Communication

DS18B20 digital
Related products
(8 other products in the same category)